Holidays in the Maldives in December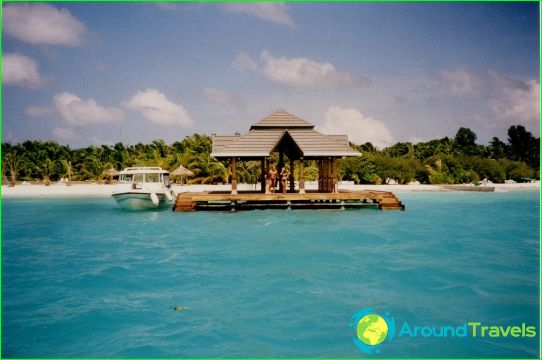 In the imagination of every person, the Maldives is associated with the endless sea, which stretches to the very horizon, the warm sand of the beaches and the amazing underwater world. In December, these islands offer their guests an exotic vacation in cozy hotels, because what could be better than to escape from everyday worries and worries and visit a tropical paradise called the Maldives. Here you can meet the New Year holidays under the palm trees on the sea coast.
Maldives are islands in the Indian Ocean. It is good to rest here not only in summer, but also in winter. The Maldives have long been chosen by lovers of measured rest. But for those who prefer active holidays, there is also something to do here..
Tours to the Maldives in December
Holidays in the Maldives in December are very popular these days. Why do many people choose December to enjoy their vacation in this paradise? In December, the humidity level on these islands is low, the sun is shining brightly in the sky and there is practically no rain. Season titled «iruvai», that is, the northeast monsoon season, which covers the entire month of December, is considered the best time for a good rest. Get travel deals for December to the Maldives, and, believe me, you will never regret it.
The Maldives has warm weather even in winter, and December is the optimal time for those vacationers who plan to dive and see the amazing underwater world with their own eyes. On the islands, special schools are open for everyone all year round, where they teach diving. Professional instructors teach beginners all the basic skills very quickly.
Weather in Maldives in December
In the month of December, the weather on the islands is simply excellent, always dry and sunny. And a little excitement at the sea will give your vacation a certain zest, when right on the eve of the New Year, instead of the usual for all of us snowdrifts, you will observe the beauty of azure sea waves.
Temperature in December: average daily air + 27C, sea water + 25C.
Having been on vacation in this tropical paradise, unforgettable impressions will remain in your memory, which you will constantly remember, and dream of returning to this place again.
Maldives - promo video

Vacation photos in the Maldives