Beaches in Monaco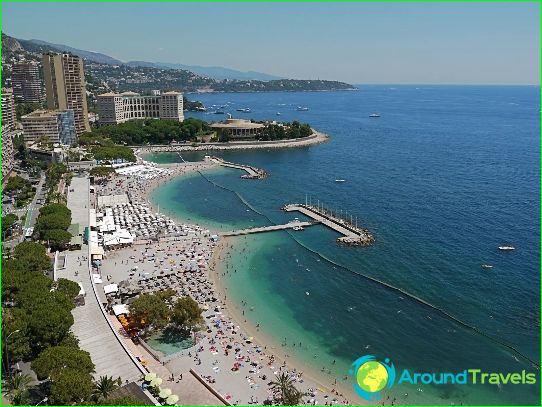 The small principality of Monaco is primarily famous for its gambling nightlife and of course the Monte Carlo casino. But there is also a beach in Monte Carlo called Larvotto. And this is the only publicly accessible beach in Monaco, divided into a series of paid zones, consisting of various cafes, and free ones, where you can show up with your bedding and sunbathe in the company of those who are used to taking care of money. And here, surprisingly, there are not so few people who want to visit the best sandy beaches of Monaco for free. On the beaches of Larvotto, you can use showers, toilets, visit various restaurants and cafes, and stay for several days in hotels. And, of course, there is always the opportunity to taste excellent Mediterranean cuisine here..
The local climate in Monaco is always warm. The minimum winter air temperature is about 15 ° C. In summer, the temperature is above 30 ° С.
On the beach, women are allowed to relax without outerwear and even topless. Sometimes you can meet here girls without clothes, but in diamonds. This is a representative of the local «golden youth». At the same time, there are quiet sectors where mothers with toddlers who are just taking their first steps can freely relax. Falling into soft sand for such a crumb will not be dangerous. The main thing is only to choose a time of day so that this sand is not hot, and then it will not become dangerous for the delicate skin of the baby..
Larvotto is an artificial, not a natural beach, but white sand is brought here with enviable regularity. The principality of Monaco itself is amazing, its beaches are also amazing, and it is not so important that this splendor was created by human labor. What is also very nice is the jellyfish net stretched along the entire beach. Transparent sea inhabitants will not be able to pester vacationers with tickling or even light burns (depending on which jellyfish gets caught), since they will not be able to swim into the water area. And the marine fauna itself will remain untouched by the children resting on the beach..
However, if you are bored with the beaches of Monaco, no one will stop you from moving to other beaches of the Cote d'Azur, if, of course, a visa allows it..
There are some of the most beautiful beaches near Larvotto, stretching from Monaco to France. This is:
Saint Tropez.
Antibes.
Golfe Juan
Saint Raphael.
Island Beach of Our Lady.
Elephant.
These beaches have all the conditions for windsurfing or taking the risk of paragliding behind a towing boat. Therefore, lovers of outdoor recreation on the shore will find entertainment here..
Photos of the beaches of Monaco