Monaco cuisine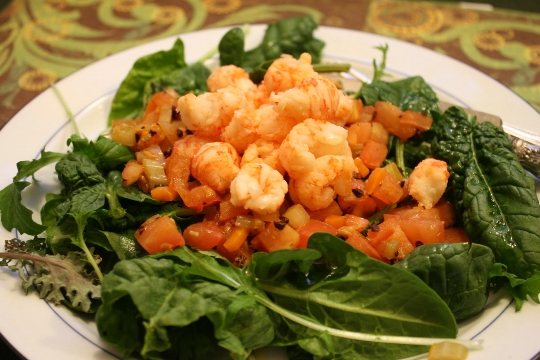 Monaco cuisine - cuisine influenced by French and Italian cuisine.
National cuisine of Monaco
Monegasque cuisine is based on fish, vegetables, fruits and seafood dishes. Of fish dishes, it stands out "bouillabaisse" - a dish that is a fish soup made of red mullet, trigly and scorpion fish with the addition of shrimp, olive oil, garlic, tomatoes, spices (cumin, saffron, sage), and at the end of cooking white wine is poured into it (to "bouillabaisse" sauce served "rui" - it is usually spread on bread).
While vacationing in the principality, you should definitely try the sandwich "bathhouse" (main ingredients: anchovies, hard-boiled eggs, capers, lettuce, tomato and olive slices, and olive oil as a dressing). Another common snack in Monaco is fried tortillas (they are eaten both as an independent meal and as a bite with the main course), for example, "land mine" (flatbread with olives, onions and lard) or "panini" (pre-toasted bread with ham).
Popular dishes of Monaco cuisine:
"pissalier" (pie with the addition of anchovies, onions and olives);
"Anshuad" (mashed anchovies with olive oil and capers);
"soup" (a dish of deep-fried cuttlefish or squid);
"lepe e pake" (roll with lamb tripe, served with spicy sauce);
"porchetta" (a dish of suckling pig stuffed with garlic, onions and aromatic herbs).
Where to taste the national cuisine?
In the Principality of Monaco, travelers will find restaurants serving regional Mediterranean cuisine. Here they will have the opportunity to visit both an expensive, truly luxurious restaurant and an institution with a more homely atmosphere..
In Monte Carlo, you should look into "Le Vistamar" (guests are offered to feast on rare delicacies in the form of shrimp and vegetable kebabs with spices, as well as stuffed seahorses), "Le Saint Benoit" (they serve seafood with all sorts of sauces, foie gras, grilled sea bass) or "Restaurant joel robuchon" (try the house's specialties - lamb chop and mashed potatoes; caramelized quail with truffle gravy).
Cooking classes in Monaco
Those who wish will be able to attend culinary courses in the restaurant "L'Orange", open at the hotel "Monte-Carlo Bay Hotel & Resort": after the introductory lecture, they will be offered to move on to practical exercises, in which they will be taught how to cook 1 dish from the restaurant menu and carry out its original serving. And in conclusion "pupils" this dish will be served along with a matching wine.
A visit to Monaco should be matched with the Russian-French gastronomic seasons (winter seasons - February, summer seasons - June), where those present can get acquainted with interesting gastronomic creations of fashionable chefs of Monaco and Russia.
Photos