Holidays in Monaco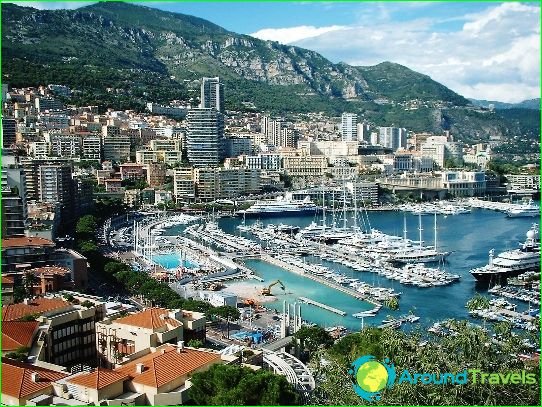 A vacation in Monaco is a VIP vacation: here, instead of a taxi, you can order a helicopter, and instead of a bus tour, you can go sightseeing in a limousine. In addition, when Monaco is mentioned, associations such as yachts, casinos and "Formula 1".
The main activities in Monaco
Excursion: as part of the excursion programs, you will see the Cathedral with the tomb of Princess Grace, the Prince's Palace (of particular interest is the solemn changing of the guard), the Chapel of Divine Mercy, the Fort Antoine fortress, visit the Oceanographic Museum, stroll through the Japanese Garden.
Active: tourists can go diving (at your service - dive club "Capd'Ail"), windsurfing or yachting, playing golf, paragliding, visiting fitness centers.
Beachfront: vacationers should take a closer look at the sandy beach of Lavrotto (here you can sunbathe topless) - it is surrounded by bars and restaurants where you can taste Mediterranean cuisine. You can also play beach volleyball here..
Event-driven: if you wish, you can visit the Rose Ball (March), the Spring Arts Festival (March-April), the Grand Prix "Formula 1" (May), Summer Ball (June), Carnival Procession in honor of Saint Jean (June 23-25), International Fireworks Festival (August), "Monaco Yacht Show" (September), Jazz Festival (November).
Prices for tours in Monaco
Despite the fact that tourists flock to Monaco throughout the year, managers in travel agencies advise to relax here in April-June and September-October. Prices in Monaco are not low, with a significant increase observed in May-September.
Since the prices for accommodation become astronomical in the high season, in order to save money, you can stay in hotels in other resorts of the Cote d'Azur. You can save a little (10-15%) by going to Monaco in November-April (with the exception of New Year and Christmas holidays, when more expensive vouchers are sold).
If you do not have a solid amount of money, but want to visit Monaco, you can go on a bus tour of Europe, involving visits to Italian and French cities and resorts. So, as part of such a tour, you will visit Monte Carlo (such tours are implemented in summer and autumn at rather attractive prices).
On a note!
In order not to overshadow your sightseeing vacation, you should not go to Monaco in the fall, because at this time it often rains here..
Although tap water in Monaco is safe to drink, it is advisable to drink bottled water.
In Monaco, there is no need to leave a tip - in most restaurants they (15%) are included in the bill.
Memorable gifts from Monaco can be casino attributes (cards, playing chips), perfumery products, jewelry, branded clothing, ceramics, books about the history of the principality in all languages ​​of the world, stamps.
Vacation photos in Monaco