Diving in Montenegro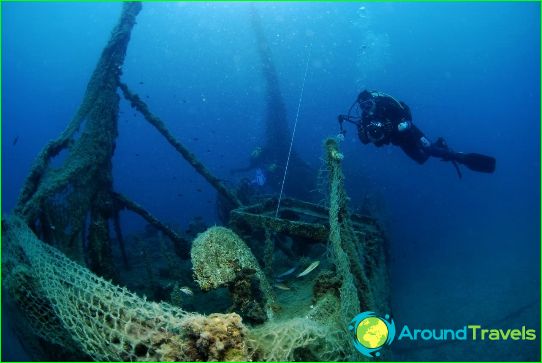 Diving in Montenegro will appeal to both experienced and novice diving. You can sink to the bottom not only in the Bay of Kotor itself, but also go out into the open sea. Of course, the underwater world of Montenegro is not as exciting as in Egypt, but here there are also a couple of beautiful underwater views and unique wrecks. It is on them that we will walk.
Goritia
This ship, once owned by Italy, sank during the First World War. The hull of the vessel is horizontal. The missing bow stern can be found 30 meters from its hull. The wreck is located at a depth of 16 meters. Visibility is excellent here..
Carola
The steamer also sank during the First World War. At the very beginning of the last century, it was used as a cruise ship, on which it was possible to take a walk in the Mediterranean Sea, and only with the outbreak of hostilities was it used by the army. It is located at a depth of 17 meters, and clear water allows you to view the sixty-five meter remains without any difficulties..
Quinto
An Italian-owned dry cargo ship sank after its collision with a submarine in 1940. The ship was badly damaged - the hull was very badly torn, which makes it easier to access and inspect the interior of the ship. The rack is located at a depth of 32 meters.
Warship
The wreck, who wished to remain incognito, was discovered by a diving group back in 1993. The ship lies horizontally, so two artillery cannons are perfectly visible. Probably, at the moment of the attack, he was going to return fire.
Particularly interesting is that the archives do not contain any records of his wreck. It is located at a depth of 50 meters..
French ship
The warship sank during the First World War and belonged to the elite of the French squadron. The raging elements are to blame for the crash, which tore the ship peacefully at anchor. As a result, he ran into an underwater mine and sank to the bottom. Now it can be seen at a depth of 18 meters..
War plane
Preserved since the Second World War. The wings and engines of the aircraft are in excellent condition, but the tail section is completely destroyed. This is what caused his downfall. Lies on a sandy bottom at a depth of 54 meters.
Zenta
One of the most beautiful ships that were in the service of the Austro-Hungarian fleet. In 1914 he was attacked and sank near the town of Petrovac. The wreck is located at a depth of 73 meters. The clarity of the water depends on the current.
Tunnels
There are underwater tunnels in the vicinity of Budva. United by a small cave, they will delight even connoisseurs of the underwater world. Maximum immersion - 12 meters.
Photos