Holidays in Montenegro in February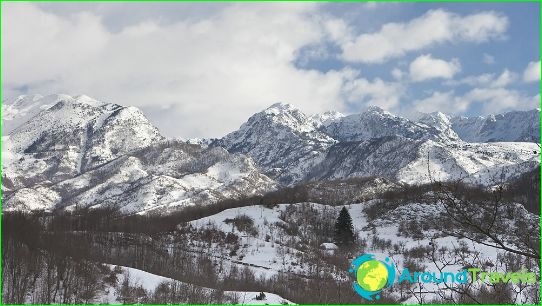 The weather in Montenegro in February can please many tourists from Russia with warmth, because the air warms up to + 12-14C in the south, up to + 5-7C in the north. Snow can fall in the northern regions, while it rains in the south. In addition, strong winds often blow in Montenegro. Despite this, you can enjoy walks, because you will not be able to feel the harsh winter. If you wish, you can visit the ski resorts of Zabljak, Kolasin, as in these areas of Montenegro the weather is conducive to winter sports. In addition, you can visit several festivals and witness unusual holidays, because February is rich in cultural events.
Holidays and festivals in Montenegro in February

Hot winter in the mountains. This festival allows tourists to learn about the unusual culture of Montenegro, witness art and entertainment events, specially designed show programs. The festival is held in Northern Montenegro and mountainous regions.
The Day of St. Tripun in Kotor is a holiday that appeared in the 9th century. The holiday is held in honor of Saint Trypun, the patron saint of Kotor. Each tourist can attend the performances of local church choirs and concerts of folklore groups.
Bokala Night is one of the most significant holidays for residents and tourists of Tivat. Bokalskaya Night has a rich entertainment program and allows you to learn about rich culinary traditions.
Ex-Yu Fest in Podgorica presents films of talented filmmakers from the countries of the former Yugoslavia.
The mimosa festival is held in Herceg Novi, Kotor, Tivat. This holiday symbolizes the approach of spring. The Mimosa Festival is an opportunity to see majorette parades, performances of brass bands, costumed processions, the participants of which must carry the blossoming branches of mimosa. In Herceg Novi, it is customary to hold theater, music and literary concerts, art exhibitions, masquerade balls, and sports competitions for several weeks. It is especially interesting for tourists to visit fishing festivals, because they are unusual cultural events. For about forty years, within the framework of the mimosa festival in Herceg Novi, «Winter Salon», allowing representatives of creative professions, among which it is necessary to note artists and sculptors, to show their works.
Carnival in Kotor is held annually and attracts tourists who are planning a vacation in Montenegro in February, with a masquerade ball, a children's carnival, folk festivities, and the presentation of national dishes. The Kotor carnival attracts many Russians and Europeans who want to have an interesting and rich time, get acquainted with the culture of Montenegro.
Photos of rest in Montenegro