Airport in Casablanca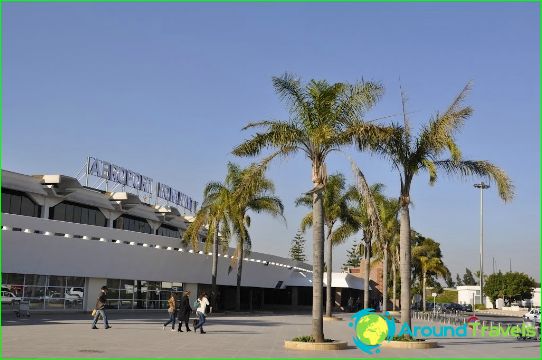 The airport in Casablanca is named after Sultan Mohammed V. It is located in the city of Nueser, about 30 kilometers from Casablanca. The airport is connected with a large number of cities around the world, since 2011 a direct flight Moscow-Casablanca has been launched.
The airport has 2 terminals, which are connected by a walkway. Terminal 2 serves international flights and Terminal 1 domestic.
More than 7.5 million passengers are served here annually, while the airfield has two runways, both of which are 3,720 meters long..
Services
The airport in Casablanca is ready to offer its guests a variety of services. For business class passengers, the airport has a Business Aviation Lounge, which has access to the Internet, office equipment, satellite TV, etc. For conferences, you can use the hotel hall «Atlas Airport Hotel», which is located near the terminal.
Also, the airport in Casablanca offers a large number of cafes and restaurants that are always ready to feed hungry visitors..
For passengers with children, a special service is available - escorting children from four to twelve years old, ensuring their complete safety. To use this service, you must provide a package of documents in advance.
In addition, the airport has wireless Internet access, post office, ATMs, bank branches, etc..
If necessary, tourists can always use the services of medical assistance at the first-aid post or buy medicines at the pharmacy..
Rest
There is a hotel near the airport «Atlas Airport Hotel» - 3 stars, it was mentioned above. Therefore, tourists can always rest comfortably in this hotel. It should be added that there is also a hotel on the territory of the airport, but it is intended only for transit passengers..
How to get there
There are 4 ways to get from the airport to Casablanca:
A train. Terminal 1 has a railway station, from which trains depart regularly, at intervals of 1 hour. Driving time - from 6:50 am to 22:50 pm.
Bus. Regularly, starting at 5:30 am and ending at 23:00, STM buses depart from the airport.
Taxi. The taxi rank is located next to the arrivals hall.
Rented car. Several car rental companies operate on the territory of the terminal..
Photos Casablanca airport