Morocco population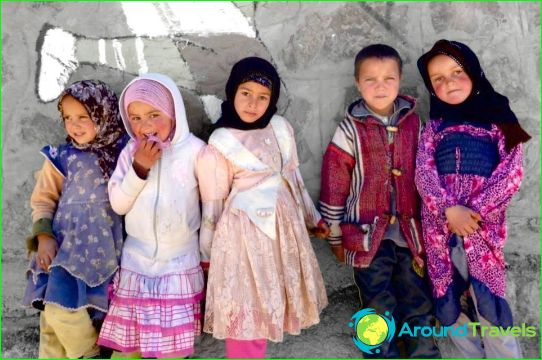 Morocco has a population of over 33 million.
The national composition of Morocco is represented by:
the Arabs;
Berbers;
other peoples (French, Spanish, Portuguese, Jews).
Berbers are divided into communities, each of which lives in the mountains. So, the Middle Atlas is inhabited by Tamazites, and the Rif Mountains - by Reef peoples. In Morocco, you can meet Moroccan haratins, who settled in large cities and oases (Moroccan south).
70 people live per 1 sq. Km, but the most densely populated areas are in the north and west of the country. On the Atlantic plains, as well as in the northwestern foothills of the Atlas and Rif, 240-300 people live per 1 sq. Km, and in Casablanca, more than 600 people live per 1 sq. Km. As for uninhabited territories, they include the southeastern regions of the country (population density - 1-2 people per 1 sq. Km).
The official language is Arabic, but no less common languages ​​are French and Spanish, and purebred Berbers speak only Berber.
Major cities: Rabat, Marrakesh, Casablanca, Fez, Tangier, Agadir, Meknes, Tetouan, Sale.
98% of Moroccan residents are Muslim (Sunni), and the rest are adherents of Judaism and Christianity.
Life span
The female population lives on average up to 74, and the male population - up to 69 years. Moroccans mostly die of diabetes, cardiovascular disease and cancer.
Morocco has a fairly high level of medical care (the country ranks 17th in terms of the quality of healthcare services), but this applies only to large cities in the country (Rabat, Casablanca), where medical institutions equipped with modern equipment are open. Traditional medicine is widespread in the country - here, in special pharmacies, you can buy numerous herbs and decoctions for the treatment of various diseases.
Before traveling to Morocco, it is advisable to get a preventive vaccination against malaria.
Traditions and customs of the inhabitants of Morocco
Moroccans are friendly and hospitable people who treat guests with special respect: they surround them with attention and care and treat them with the best food available in the house.
The Moroccans attach particular importance to wedding traditions. Before the wedding, the bride must take a ceremonial bath, after which women paint henna patterns on her arms and legs, make bright makeup and beautiful styling. As for the wedding ceremony, during the celebration, the newlyweds must sit motionless in front of the guests on the thrones..
Going to Morocco?
do not hug on the street and do not wear too revealing clothes;
in case guides or street vendors annoy you, answer them with a firm and polite refusal;
do not take pictures of police officers, military people and military objects;
if you do not want to be offended by you, do not refuse the invitation to visit the Moroccan.
Photos