Holidays in Morocco in April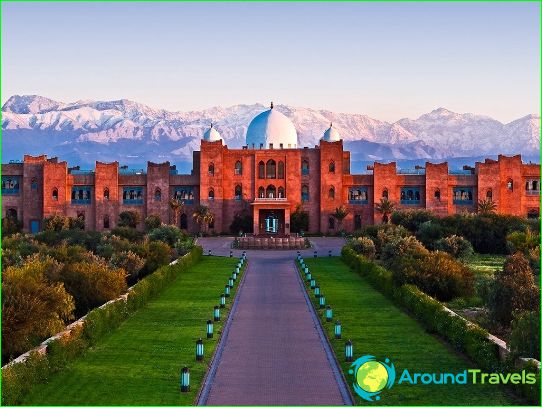 The central month of spring in Morocco heralds the arrival of the high season. Every day you can see how the number of guests in hotels is increasing and becoming more crowded on the coast..
Holidays in Morocco in April are chosen by those experienced travelers who do not like very hot weather, do not pursue a tan. April attracts Moroccan tourists because of the warm, but not scorching weather, and the opportunity to travel around this ancient and beautiful country.
Weather in Morocco in April
The weather conditions in the coastal zone, in the desert and in the mountains can be very different. Temperature columns in different resort cities of Morocco freeze at approximately the same mark - from +21 ° C (Fez, Agadir) to +23 ° C (Marrakech). Casablanca, which everyone remembers from the famous film, is a little colder, + 18 ° C.
Beach vacation
Moroccan beaches stretch in a fairly large strip along the Atlantic coast. In April, the water temperature, of course, is far from records and fresh milk, but it is quite possible to take sea baths.
Getting a beautiful tan is a matter of just a few days, and then you need to be careful with the active spring sun and use protective equipment.
Excursion programs
Most arrive here in April with the dream of educational excursion routes. One of the travels, for example, may be associated with the capital of the kingdom - Rabat, which is also part of the Moroccan cohort «imperial cities».
In the capital, you can see an amazing cocktail of architectural structures of different eras and styles. And those who dream of oriental Moroccan flavor will finally reach their goal.
Places worth visiting in Rabat:
Kasbah Udaya, a famous fortress located in the north of the city. Within the fortress, local streets with houses painted in white and blue are amazing.
There are a lot of mosques here. Only men can get inside, all without exception can admire the appearance. Morocco is a traditional Muslim state, guests, especially those of other religions, should be careful not to offend the religious feelings of Muslim Moroccans.
Local museums, expositions of which will tell about the history of the country, its traditions, beliefs, the best artists and musicians. One of them, dedicated to the Moroccan arts, will celebrate its centenary next year. It is clear that the items stored in it are much more years old than the institution itself.
Holiday photos in Morocco