Rivers of Paraguay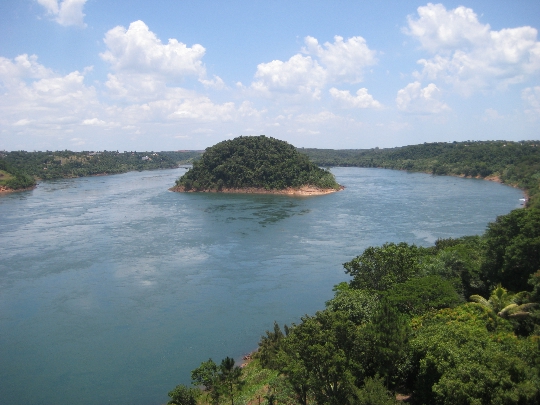 Conventionally, we can say that the rivers of Paraguay are represented by only three relatively large waterways. And this is Paraguay, Parana and Pilcomayo.
Parana river
The river belongs to three countries at once - Brazil, Paraguay and Argentina. And it is the second longest river in the entire South American continent, second only to the Amazon. The total length of Parana is 4,700 kilometers. The middle course of the river is the natural border between Paraguay and Argentina..
From the language of the Guarani Indians, Parana is translated as Big River. But there are other translations, for example, «mother of the sea».
The source of the river is located in Brazil, at the place where two rivers converge - Rio Grande and Paranaiba (Brazilian Highlands). In its upper course, the river is quite aggressive: there are many rapids, and there are also beautiful waterfalls. The river at a certain point passes through a huge lava field. And the most beautiful Iguazu Falls is located on one of the tributaries of the Parana.
Overcoming a natural obstacle, Parana emerges on a flat plateau and remains calm right up to the mouth - the Gulf of La Plata (Atlantic). Before falling into the waters of the Atlantic, the Parana current is divided into a huge number of branches. As a result, the river delta reaches a length of 130 kilometers, and the maximum width is 65 kilometers..
The river is navigable. And guests of the country are happy to travel on its waters on boats. But the depths here are too shallow for ships.
Paraguay river
Paraguay is the right tributary of the Parana. Its main tributaries are: Verde; Pilcomayo; Bermejo. Paraguay passes through the territory of four countries at once: Bolivia; Brazil; Paraguay; Argentina.
The river originates in Brazil (Mato Grosso state) near the town of Diamantino. At the very beginning, the river bed passes through dense forests, and then goes through a marshy area - Pantanal. This is the largest swamp in the world, which changes depending on the season..
The riverbed of the Paraguay River conditionally divides the country into two parts: the populated east and the poorer Gran Chaco. Most fertile soils «got» exactly the eastern part of the country. Chaco region - salt marshes with their own system of periodically drying up rivers.
The river is rather meandering, with sandy shoals and islands. But in the lower reaches, it is deep enough to be navigable. The average depth of the river is no more than 10-12 meters. That is why its channel is periodically artificially deepened. The river is rich in fish, making it a true breadwinner for the poor..
The river floods quite often, causing significant damage to coastal areas. But even at this time, the Paraguay River remains unusually picturesque, attracting increased attention of tourists..
Photos