Warsaw observation decks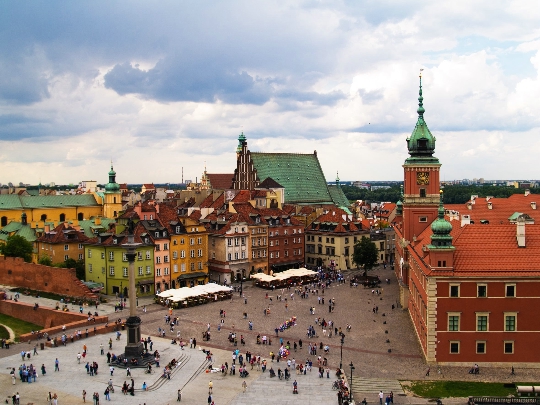 Do you plan to climb the Warsaw observation decks? You will be able to admire the Palace and Market Squares, the Vistula Embankment, the Presidential and Wilanow Palaces, the Ujazdowski Castle and other objects from a different angle..
Palace of Culture and Science
The height of this building together with the spire is over 230 m; it has one of the best observation platforms on the 30th floor (over 110 m high) - from here guests can admire the panorama of Warsaw. In addition, those who wish can visit the café and exhibitions held here. Useful information: working hours: from 09:00 to 18:00; the cost of a regular ticket is 20 (for a group of 10 people, the ticket will cost 12 PLN), and a concession ticket - 14 PLN.
How to get there? Here you will be taken by buses No. 160, 109, 227, 151 (address: Plac Defilad; website: www.pkin.pl)
Bell tower of St. Anne's Church
To climb the bell tower, which serves as a viewing platform, you need to overcome the path up to 150 steps - from here, travelers will see from a height not only the Old Town, but also more distant places. If you wish, you can come to the church to attend a concert of organ music. Useful information: in May-October, you can climb from 10: 00-21-22: 00, at other times - until 18:00; beneficiaries will pay 4 zlotys for a ticket, and all others - 5 zlotys; those wishing to use the viewing platform as a place for a photo session will pay for this service - PLN 100.
Address: ul. Krakowskie Przedmiescie 68; website: www.taraswidokovy.pl
Tower of the Warsaw Uprising Museum
Visitors are attracted not only by the museum exposition (you should walk through the thematic halls, divided according to the chronology of events; there is a special room for children, where they will be able to try on the role of a postman, a nurse or a scout), but also a 32-meter observation tower, from where you can see objects located next to the museum from a bird's eye view. Ticket price - PLN 18 / regular, PLN 14 / reduced.
Address: ul. Grzybowska 79
Warsaw University Library
It is famous for its garden (consists of the lower and upper parts, which are connected by water cascades): in this mini-park you can relax surrounded by green plants and visit the terrace with an observation deck (from here you can see Warsaw, Vistula, cwiętokrzyski bridge). Address: ul. Dobra 55/66 (entrance to the garden is free; in May-September open until 20:00, the rest of the time - until 18:00).
Gnojna gora
The observation deck can be found at the top of the mountain - from here you can see the Vistula and part of Warsaw on its right bank. Address: ul. Brzozowa, Stare Miasto.
Guests of the Polish capital will be able to admire the panorama of Warsaw by climbing a high natural point (height - 75 m) of Warsaw ("Szczesliwice", ul. Drawska 22).
Photos