Lisbon shops and malls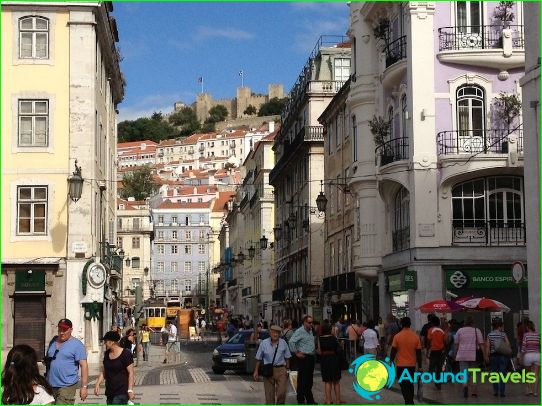 Lisbon is the capital of Portugal. A picturesque country, a unique city. Temperamental locals, the Tagus river, stairs, elevators, funiculars, trams. Walking along the streets in the old part of the city, buying trinkets, enjoying coffee at tables in a cafe, it is pleasant to get acquainted with the city.
In the districts of Rossio, Baixa, Chiado, Bairro Alto, Alfama and Lapa, there are many boutiques of world and Portuguese brands. Pay attention to jewelry stores, shopping in them is one of the most profitable in Lisbon. Antique shops are located at Rua Dom Pedro V and Rua de Sao Bento. It is good to buy souvenirs in the Baixa area. The flea market, which is full of impressions, is located in the Alfama quarter, next to the Church of Santa Engarcia.
Lisbon shopping centers
In inclement weather or if there is a need to buy a lot of sorts of things at a stroke, it is better to move to one of the shopping centers.
«Colombo» - the size of this mall stands out not only in Portugal, it also has few competitors in Europe. The number of shops in it exceeds 440, restaurants and cafes - about 60. There is an entertainment area, a huge cinema. The opening hours are very convenient - from nine in the morning to zero at night. The center also works on weekends, but weekdays are preferable to visit - there are fewer people. Located near the metro station «Colegio militar», blue branch.
«Vasco da gama» - the designers of this center have come up with a glass roof from which water flows. Buyers feel a little like aquarium fish under such a dome. Here you can buy all the most popular goods for women, men, children, families and everyday life. There are enough entertainment and catering points. A wonderful panorama of the Park of Nations and the Tagus River, opening from the windows, will also decorate shopping in «Vasco da gama». Metro station «Oriente», red branch.
«Amoreiras» - the construction of shopping centers in Lisbon began with him. The mall is good for everyone, only there is no metro station nearby. It is on the Avenida Engenheiro Duarte Pacheco.
«El corte ingles» - a representative of the popular Spanish network. Its building has as many as nine floors. Clothing stores, cosmetics, household goods, electronics, supermarket - everything is there. Located next to the Eduardo IV Park on the Avenida Antonio Augusto de Aguiar.
«Freeport Outlet» - located 40 km from the city on the A1 highway. It takes about half an hour to get to it from the city center by car or public transport. The outlet can be reached by public bus or train, and from the station a free shuttle bus will take you to your destination. Tangible discounts on goods of European brands await buyers in 120 boutiques.
«Armaz ns do chiado» - mall, especially loved by young people, as it presents a wide selection of digital equipment, CDs and DVDs. There is a large book department, a lot of sportswear. Located on Rua do Carmo, metro «Praca rossio».
Photos of Lisbon shops