Bucharest - the capital of Romania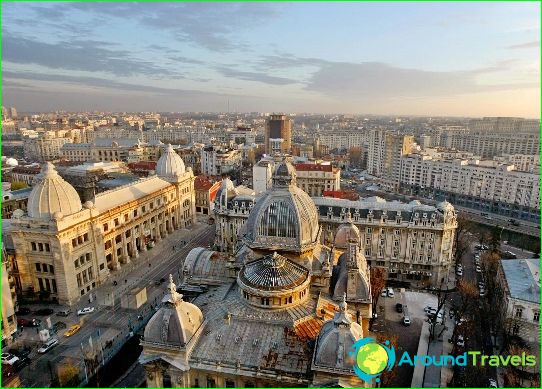 The capital of Romania, the city of Bucharest is an interesting place that has retained the charm of the Middle Ages, but modern buildings also fit perfectly into the urban architecture. Therefore, spacious boulevards, magnificent architectural monuments surrounded by parks - this is how Bucharest will appear before you.
Mogosoaya Palace
This is one of the brightest examples of the creation of Romanian architects. The style in which the building was built is called Brancovean and combines features of Venetian and Ottoman architecture. The modern appearance of the palace is somewhat different from the original, since the building was rebuilt several times, but its old part has been preserved in its original form.
Dimitrie Brandza Botanical Garden
The garden was founded in 1860. A little later, in 1884, it was moved to its current location. The initiator of this was Dimitrie Branles, whose name the garden bears.
The park covers a huge area of ​​17.5 hectares. At the same time, a quarter is occupied by covered greenhouses. Here you can visit specialized departments and appreciate the beauty of rare plants. On the territory of the park there are rose gardens, there is an Italian garden and an Iris garden, as well as numerous ponds..
Cantacuzino Palace
The construction period fell on the beginning of the 20th century (1901 - 1903). The architecture of the building combines three styles at once: art nouveau, rococo and neoclassicism. On the facade of the building you will see at the same time openwork stucco moldings, graceful balconies, and a portal decorated with wrought iron lions. The interior of the palace, striking in its luxury, has been completely preserved: old paintings in heavy frames, luxurious carpets and furniture, tapestries and stained glass.
On the palace squares there is a museum of George Enescu, a famous composer. The exposition is represented by his personal belongings. In addition, the ballroom and concert hall are often used for performances by musicians, and dance evenings are held here..
Patriarchal Cathedral
The construction of the temple was completed in 1658. The cathedral is located at the top of the Metropolitan Hill. The building was built in the Brankovyan style, but numerous reconstructions have almost completely changed its appearance. And the old age of the temple is indicated only by the semicircular arches characteristic of the Byzantine style. The facade of the cathedral is decorated with rich stucco, floral ornaments and the faces of saints.
Kurtya Veche (Princely Court)
The fortress, dating from the XIV-XV centuries, was the residence of the princes. It was significantly expanded and equipped under Vlad Tepes (the famous Dracula) and Constantin Brinkovian. The princely court includes a palace, a princely office, a church, as well as stables and gardens. The main part of the complex is destroyed and it is the ruins that are the basis of the museum's exposition.
Bucharest (Romania)
Photos