Excursions in Chelyabinsk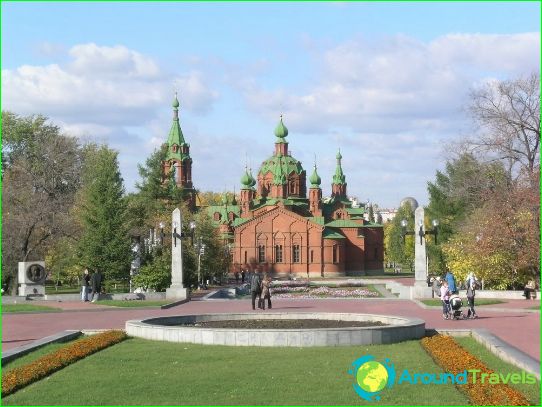 In 1736, the beginning of the city of Chelyabinsk was a small guard fortress near the Miass River. Today Chelyabinsk is one of the largest cities, with a population of over a million. In addition, it is a large industrial center not only in its region, but throughout the country. In recent years, the city has become a major tourist center, so excursions in Chelyabinsk are more in demand among tourists than ever.
Modern Chelyabinsk
City planners have never tried to give Chelyabinsk the appearance of an industrial and industrial center. On the contrary, the preservation of old buildings and the creation of new attractions is the main goal of the cultural development of the city. In recent decades, the creation of recreation parks is actively underway..
What to watch?
For guests of the city, as well as curious local residents who want to learn everything about the history and culture of their hometown, there are sightseeing tours in Chelyabinsk. While exploring the city, you can see:
The public library;
Ballet and Opera Theater;
Confectionery factory «YuzhUralConfectioner»;
Church of the Holy Trinity;
SUSU buildings;
Museum of Local Lore;
Theatre of Drama.
Art connoisseurs will surely like the Chelyabinsk Picture Gallery. For tourists who love walking around the city, a special pedestrian zone has been created on Kirov Street. There are cafeterias and restaurants, many beautiful bronze sculptures. You can also see the zero kilometer of Chelyabinsk, from where the distance to different cities is measured. The picturesque street is not inferior to the Moscow Arbat. And everyone who wants to look at Chelyabinsk from an unusual angle - from a bird's eye view - can go to the observation deck.
In addition to excursion routes, walks in the parks are also popular. There are several lakes within the city, among them Smolino and Sineglazovo.
Those who wish to make purchases can go to one of the largest shopping and entertainment centers in the city, for example, «Focus» or «Megapolis».
Thematic excursions
In addition to a sightseeing tour of the city, there are many thematic areas. Those who are interested in the creation and development of locomotive technology will be shown the South Ural Railway Museum and the Locomotive Museum. For astronomy lovers there is an excursion to «Astronomical Center». Believers and those simply interested in religion can go for a walk in the holy places of Chelyabinsk: churches, mosques, synagogues.
There are also several thematic museums in the city:
Book Museum;
Museum of the author's doll;
Museum of Archeology;
Museum of Geology.
And although Chelyabinsk does not have a thousand-year history, it is a city with an interesting history and special culture. He will be able to surprise every guest. And any tourist will find here excursions to their liking..
Photos of excursions in Chelyabinsk