Observation decks of Chelyabinsk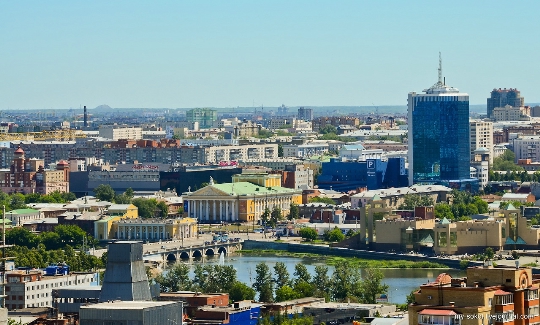 Observation decks of Chelyabinsk provide city guests with the opportunity to view from an unusual perspective the spherical dome of the Shopping Center on Kaslinskaya Street, bronze sculptures on Kirov Street, Holy Trinity Church and other places of interest.
"Chelyabinsk-City"
This building has 23 floors (its height with a spire is more than 100 m; exhibitions of photographs and drawings are periodically held here), and its last floor serves as an observation deck (the best views of Chelyabinsk open), where you can climb by paying a certain amount: 300 rubles / for 1 person when recruiting a group of 10 people; 500 rubles / for 1 person, if the company consists of a maximum of 3 visitors.
It is worth noting that for those who wish, various events are organized on the territory of the site, for example, viewing a festive fireworks or a romantic dinner. And if you wish, you can visit the restaurant "Ambassador" –It is located on the 4th floor "Chelyabinsk-City" (there is a buffet and banquet menu).
Address: Kirov street, 159; link to the website: www.panorama74.com
Business center "Vipr"
Travelers will find the observation deck on the roof of the building, where the helipad is also located. Guests are encouraged to make an order for a sightseeing tour involving a visit to the site, as well as arrange a date or a romantic photo session. Address: Yelkina street, 45a.
Chelyabinsk State Museum of Local Lore
All expositions of the museum can be viewed for 250 rubles, and the permanent exhibition (you will get acquainted with the exhibits of the 20th century hall, the hall of nature and ancient history, the hall of history and folk life) - for 160 rubles. In addition, guests are advised to visit the Museum on the Roof (tickets cost 50-100 rubles; opens the doors to visitors from May to November) - from the observation deck you can admire modern avenues and small streets, green squares, churches and wooden buildings of the early 20th century ( lovers of panoramic views and photo sessions flock here). It is worth noting that the museum holds master classes on folk crafts for children, as well as excursions and museum classes aimed at young visitors of different age categories. Important: every first Monday of the month is a cleaning day..
How to get there? Using the services of public transport, you need to drive to the stops "Circus", "Opera and Ballet theatre" or "Sports Palace Yunost" (address: Truda street, 100; website: www.chelmuseum.ru)
Ferris wheel in the park named after Gagarin
Admire the views while riding this attraction for adults for 100 rubles, and for children 5-8 years old - for 70 rubles. In addition, guests will be delighted by the presence in the park of a go-cart track, a paintball field, and a rope park. "Forest extreme" and other entertainment.
How to get there? Before stopping "PKiO named after Gagarin" you will be taken by buses No. 16, 83, 4, 2 or fixed-route taxis No. 10, 3, 102, 99 and others (address: Kommuny street, 143).
Photos