Rest in Kazan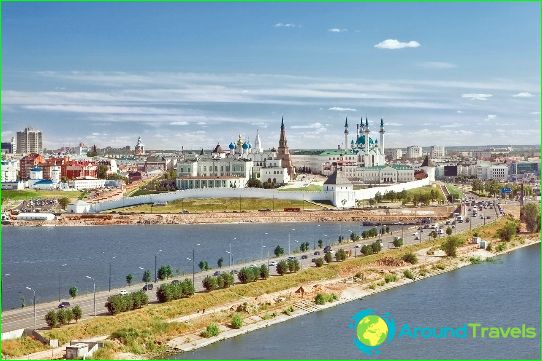 Rest in Kazan will allow its guests to learn the history of this city, taste the national Tatar cuisine, find entertainment for every taste.
The main types of recreation in Kazan

Sightseeing: going on an excursion, you will see the Kul Sharif mosque, Peter and Paul Cathedral, the Kazan Kremlin, the Syuyumbike tower, the Transfiguration Monastery, the icon of the Kazan Mother of God in the Church of the Exaltation of the Cross. Excursion programs include a walk through the historical center of the city - here you will meet the Academy of Sciences, fountains, the carriage of Catherine II (bronze copy), a monument to Chaliapin. For nature lovers, Kazan organizes an excursion to the Blue Lakes, the water in which never freezes (while you walk to the reservoir, you will be able to admire the local landscape).
Beachfront: everyone can relax on the Central Beach (Kazanka River) - lifeguards work here, and summer cafes and tents are open next to it, where you can get refreshments. Or you can go to a paid white-sand beach "Riviera", with sun loungers, changing cabins, heated pools, a water park, a cafe, a barbecue, a beach volleyball and football field.
Active: you will be able to spend time actively by visiting the ski complex (the ski season lasts from December to March), as well as playing golf (the duration of the golf season is May-October) or riding a horse.
Event-driven: it's worth coming to a holiday in June "Sabantuy", April - Music Festival "Europe Asia", in February - International Chaliapin Opera Festival.
Wellness: since there are sanatoriums and health camps surrounded by broadleaf and pine forests a few kilometers from Kazan, it is advisable to come here to restore strength and health.
Price level for tours to Kazan
Kazan is a year-round resort, but when visiting the capital of Tatarstan in May, summer months and September, you should prepare for the fact that the cost of vouchers will increase by about 25-50%.
On a note!
If you are going to Kazan in the summer, take with you sunglasses and cream, a hat, comfortable shoes, warm clothes for evening walks around the city, as well as an umbrella or raincoat in case of rain.
When planning photo and video filming, please note that in almost all sites visited, an additional fee is charged for this..
From a vacation in Kazan, you can bring jewelry made of gold and silver, fur products, national clothes or boots made of bright multi-colored leather, skullcap, painted wooden utensils, decorative panels, souvenir Koran.
Photos of rest in Kazan