Suzdal observation decks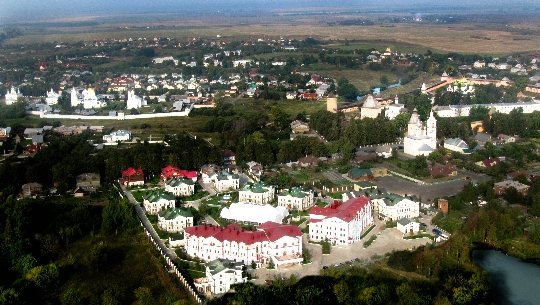 Those who have climbed the observation platforms of Suzdal will be able to see from a different angle over 200 preserved ancient monuments, the Trade Square, the Museum of Wooden Architecture, the Skuchilikha settlement, the Church of the River Side, etc..
Bell tower of the Monastery of the Deposition of the Robe
From the observation deck (located below the bell ringer; it is one of the best in the city) of the bell tower (its height together with the spire is 72 m), visitors can see the whole of Suzdal (access to the site has been reopened since mid-2014). Tip: during a tour of the monastery, it is recommended to inspect parts of the surviving Sretenskaya Refectory Church.
There is no entrance fee to the monastery, but a fee of 100 rubles ("on duty" next to the bell tower, a man hands over brochures to visitors, from which you can learn more about this structure). On other days, in order to get to the bell tower, you should apply for a blessing to visit it from the abbess of the monastery..
Address: Lenin Street, 77
Bell tower of the Resurrection Church
From the bell tower, which serves as an observation deck, guests will be able to enjoy the views of the Posad and the Marketplace from an unusual perspective (despite the fact that the rise is quite steep, the sight you see will not disappoint you). So that you can freely climb the bell tower, you need to go to the temple (here you will see walls decorated with glue painting of the late 19th century, and on the pillars - fragments of painting from the 18th century) and make a small donation of 50 rubles.
How to get there? Before stopping "Trade area" buses number 3, 6, 2 follow (address: Lenin street, 63b).
Bell tower of the Vasilievsky monastery
From this bell tower, where you can get for a symbolic fee by making a donation, you can admire the panorama of Suzdal. Address: located at the intersection of Sadovaya and Vasilyevskaya streets
Other observation decks
The observation deck at the Spaso-Evfimiev Monastery (located on the high bank of Kamenka; its visit is included in almost all excursion tours around Suzdal): from here you will be able to admire the Kamenka River, overlooking the Pokrovsky Monastery and other objects.
The observation deck on the ring road (from here Suzdal is visible from the side of Ilyin meadows): despite the fact that tourists are not often taken to this place, it is worth coming here to enjoy the views of the surroundings, in particular the temples of Ilyin meadows.
Kremlin Ramparts (travel by any transport is prohibited): walking along this kind of long observation deck, you will be able to enjoy the beautiful panoramic views of Suzdal.
And if you wish, you can go to "a walk" by helicopter over Suzdal.
Photos