What to do in Yekaterinburg?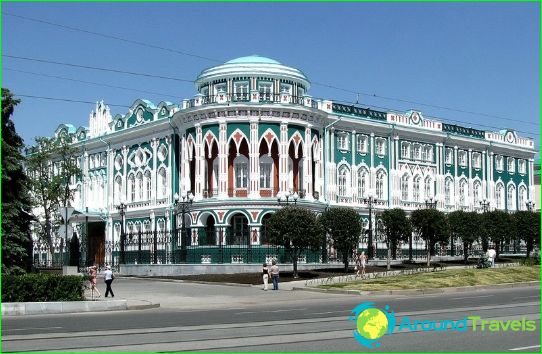 Yekaterinburg is a cultural city famous for its monuments (600) and museums (30). There are such unusual monuments as "Klava" (dedicated to a computer keyboard) and a monument to the Invisible Man..
What to do in Yekaterinburg?
Take a walk through the Historical Square, where the Time Capsule is buried (it will be opened in 2023);
Go to the Rastorguev-Kharitonov estate to admire the palace and park ensemble;
Visit the place where the royal family of Nicholas II was executed (this place is located opposite Voznesenskaya Gorka);
Walk along the alleys, ride the attractions and just relax on a bench in the Central Park of Culture and Leisure.
What to do in Yekaterinburg?
Acquaintance with Yekaterinburg should start from the city center: on Plotinka you can take a walk with friends or sit on the local lawn with a book in your hands. Connoisseurs of culture can go to the Yekaterinburg Opera House or the Academic Theater of Musical Comedy.
Families with children should head for the zoo, circus, water park "Limpopo", park of miracles "Galileo", Mayakovsky park, Ural farm "Crocodileville", Butterfly Park, in "Aquagalery".
Couples in love can go for a leisurely stroll through the parks (Arboretum, Victory Park, Green Grove), to a bar, a nightclub ("Sity", "Ink") or in the cinema ("3D Megapolis"). You can also spend time in a romantic setting in the Kharitonovsky Garden: there is an artificial pond, thickets of centuries-old trees, an elegant gazebo-rotunda.
Nature lovers can go to the Green Grove Park or "Stone tents". Going to the City Pond, you should definitely rent a catamaran or boat, and go on a river trip.
Arriving in Yekaterinburg in winter, you should definitely visit the local ski centers. At your service - Mount Pilnaya, Yezhovaya and Volchikha. And in summer and autumn it is worth planning a walk in the woods..
Extreme tourists will like the Palace of Game Sports - they can take part in basketball and volleyball competitions, mini-football matches, as well as watch how professional athletes play.
Resting in Yekaterinburg, you can see all the sights and visit interesting and unusual places!
Photos where you can go in Yekaterinburg