Independent travel to St. Petersburg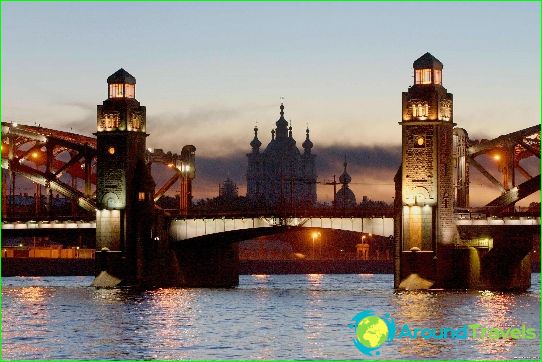 Thousands of travelers arrive in the northern capital of Russia every day. A European who has heard about magnificent museums and amazing palaces, and an American who wants to understand the mysterious Russian soul, and an Asian who is accustomed to heat and heat and is unfamiliar with cool mists, dreams of visiting this city. Peter is the clearest example of a city that is impossible to tell about. Even a hundredth part of its charm will not be understood and felt, and therefore you will have to buy tickets to the city of Petra.
When to go to St. Petersburg?
There is no tourist season in St. Petersburg. It is always full of crowds of people in need of history and culture, architectural and artistic relics. The optimal weather for walking in the city on the Neva is towards the end of spring and early autumn, when the probability of precipitation tends to a minimum, and the air temperature allows you to take comfortable walks over the longest distances.
How to get to St. Petersburg?
You can fly to the northern capital by plane or by train. Travel time from Moscow will be a little over an hour and 8 hours, respectively. By high-speed train "Sapsan" you can get to St. Petersburg from the capital in less than five hours. The easiest way to get around the city is to use the St. Petersburg metro. So you can be sure that traffic jams will not interfere with any excursion and cultural plans..
Housing issue
Hundreds of hotels of various levels are open in the city: from elite five-star world-famous hotels to budget hostels. Another traditional and profitable option that guests of St. Petersburg have been using for many years is a room or apartment for daily rent, rented for the duration of a vacation or vacation..
Argue about tastes
Like hotels, cafes and restaurants in St. Petersburg can satisfy the tastes of a wide variety of visitors. Budget lunches can be found in small cafes, and festive dinners can be ordered in famous St. Petersburg restaurants in the central part of the city. Gorgeous views of the main attractions are provided! For fans of exotic cuisine, there are Asian, Indian and other restaurants with an original menu..
Informative and fun
The main sights of St. Petersburg can be named even by those who have never been to the city on the Neva. It is worth seeing the Isaac and Kazan Cathedrals, the Hermitage and Anichkov Bridge, the Admiralty and the old buildings of Nevsky Prospekt. And there are more than 500 bridges in the city, each of which is worthy of attention. The UNESCO Foundation considered that the entire historical center of St. Petersburg deserves special treatment and took it under its honorary protection..
Photos of the trip to St. Petersburg