Rest in St. Petersburg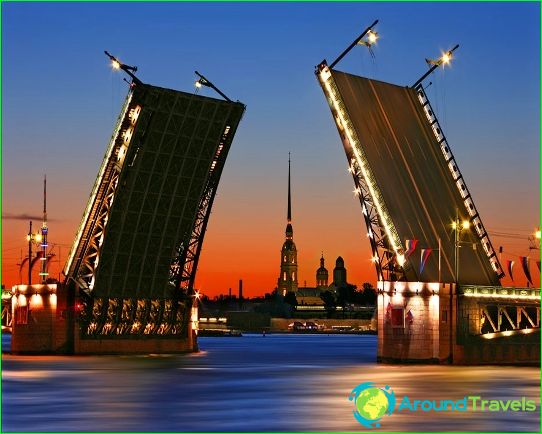 Holidays in St. Petersburg are preferred by lovers of white nights (mid-May - mid-July), viewing drawbridges, visiting unique museums.
The main types of recreation in St. Petersburg

Excursion: as part of the excursion programs, you will be able to take a walk along the rivers and canals by going on a tour on a river tram. You can also explore city sights by bus (take a ride on a red 2-decker bus "City tour" - leaving anywhere to explore any sight, you can continue the trip on the next bus) or walking tours. So, you will see the Bronze Horseman monument, the Alexander Column, the Stroganov Palace, the Alexander Nevsky Lavra, the Church of St. Catherine, the Mariinsky Palace, the Peter and Paul Fortress, visit the Winter Palace, the State Hermitage, the Kunstkamera, walk along the Admiralty Embankment and Alexander Park.
Active: everyone will be able to go rollerblading, horseback riding, go karting, parachute jumping, have fun at the RockTown climbing wall and at the climbing and rope center "Krucha".
Family: parents should take their children to the Chocolate Museum, Dolphinarium, (you can see an interesting show program and swim in the pool with dolphins), amusement park "Divo Ostrov", where they can ride various attractions such as "Ferris wheel", "Rollercoaster", "The fast and the furious", "El Dorado", and also to the museum "Universe of water" (guided tours and lectures are held here, as well as interactive exhibitions designed for different age groups). Dads and sons should definitely visit the museums of retro cars and bladed weapons..
Event-driven: having guessed a trip to St. Petersburg for various events, you will be able to attend the opening of the annual cycling season (end of April), "Museum nights" (May), Festival of Fountains (May), International Festival "Imperial gardens of Russia" (June), Short Film Festival "Opencinema" (August).
Prices for tours to St. Petersburg
Despite the fact that the tourist flow never stops in St. Petersburg, travel agency managers recommend their clients to visit this city in May-September. This time is the high season, so you should be prepared for an increase in the cost of vouchers by 30-70%. The number of visitors to the city becomes a little less at the end of November - mid-December and in mid-January - mid-March, and since these periods are considered a low season, the prices for tours to St. Petersburg at this time delight in their democratic character.
On a note!
When visiting St. Petersburg in the autumn-winter period, it is advisable to take warm windproof clothes and waterproof shoes with you, and regardless of the time of the trip, do not forget to pack an umbrella in your suitcase (rains are not uncommon).
From a vacation in St. Petersburg, it is worth bringing a Russian samovar, imperial porcelain, souvenirs in the form of angels or lions, an umbrella-cane with views of the city, souvenirs with the symbols of the St. Petersburg football club "Zenith".
Photos of the rest in St. Petersburg