New Year in Moscow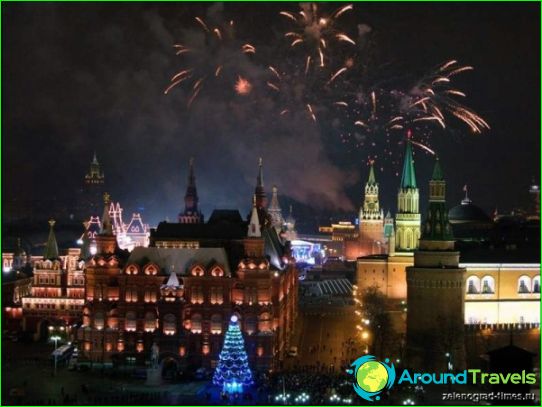 Everything flows, everything changes. This law of life has not bypassed holiday traditions either. Once a typical family holiday, New Year is increasingly becoming a reason for travel and trips to various parts of the world. One of the great options to arrange a pleasant winter vacation is to celebrate the New Year in Moscow and see how the winter capital lives..
The land of fairy tales in the streets and squares
In recent years, Moscow has increasingly become the choice of those who are used to experimenting and inventing their own traditions. That is why New Year's Eve on Red or Manezhnaya Square gathers tens of thousands of townspeople and guests of Belokamennaya. The audiovisual shows on the facade of the Manege building are very successful and are distinguished by their colorful performance and high-quality musical accompaniment. Okhotny Ryad invites you to large-scale rock concerts, and Vasilievsky Spusk - to theatrical performances and costume performances.
Everyone goes to the park!
The main parks of the capital do not stand aside, and those who decide to celebrate the New Year in Moscow have a place to roam. Light chimes over Gorky Park promise to become a good tradition, and the famous skating rink, like many years ago, willingly welcomes fans of New Year's waltz on ice.
Tagansky Park does not lag behind in a variety of holiday entertainment and offers flying kites with fiery lights, New Year's performances with famous movie characters and excellent live music, in the creation of which famous DJs take part.
The organizers of the festive program in Muzeon Park quite reasonably believe that fresh air whets the appetite, and therefore set the tables with traditional treats in the spirit «Olivier salad» and tangerines. After refreshed, guests can choose carnival masks and participate in a masquerade ball. The brass band in the best traditions plays popular musical fragments all night long.
Photos of New Years celebration in Moscow