Trip to Singapore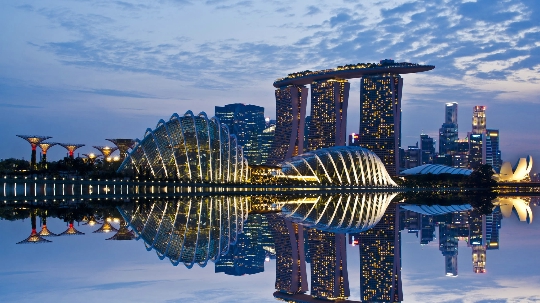 A trip to Singapore - a country where the local flavor of the cozy neighborhoods with the modern design of skyscrapers is surprisingly harmoniously intertwined - will certainly become an absolutely unforgettable journey..
Public transport
The country has excellent transport links. In cities, buses, high-speed trams, metro and cable cars come at the disposal of guests and local residents to move around the territory..
Metro
Metro in Singapore is considered to be the most modern of all the subways in the world. In addition, the length of the Singapore metro is an absolute record holder. Trains serving subway lines have their own air conditioning system and are also distinguished by increased comfort.
The Singapore Metro connects all major parts of the city-state: seaport; business center; sleeping areas; airport complex.
The metro starts its work at 5:30 in the morning and ends at exactly midnight. During the day, the cost of travel for any distance in different companies is about the same, and on average is 0.8-2.5 Singapore dollars.
Taxi
Taxi is a relatively inexpensive way to travel. If you go on a trip with a company (3-4 people), then it is more profitable to move using the services of taxi drivers. Night trips will cost exactly half more than day trips, since another 50% is added to the daily rate..
Cable car
If your goal is Sentosa, then you can get to this place of entertainment by cable car. There are three stops along the way: Sentosa; Harbor; Mount Faber.
The fare from one stop to the next is 7.5 Singapore dollars. But travel from start to finish will cost just S $ 8.9. Visitors to Singapore are eligible to purchase a tourist pass worth S $ 45. This includes $ 10 travel and the rest is discounts on restaurant, shopping, and sightseeing bills..
Automobile transport
Roads in the country are laid even to the most remote points of Singapore. Sentosa and Jurong Islands are also connected by a highway. The length of expressways is one hundred and fifty kilometers. The rest have a costly share of 3200 kilometers. Traffic in the country is left-hand. Conveniently, 3-4 lanes are laid in each direction.
Air traffic
There are five airport complexes in Singapore. The largest is Changi, serving 58 countries. From here, flights depart to 158 cities around the world.
Photos