Traditional Singapore cuisine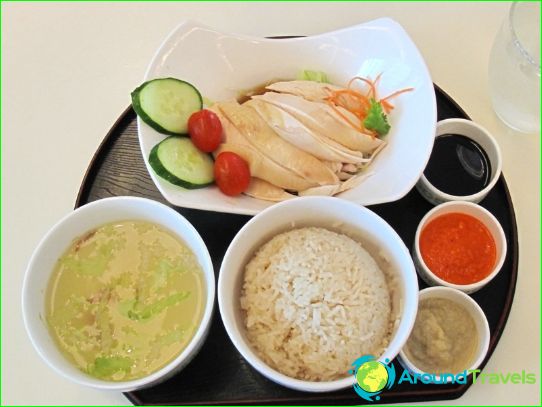 Food in Singapore is characterized by the fact that in local establishments, dishes are prepared exclusively from fresh products and seasoned with rather delicate seasonings..
Food in Singapore
Singaporeans' diet consists of vegetables, rice, seafood (crabs, shrimps, lobsters, squid, mussels, oysters), meat, tropical fruits (durian, pineapple, lychee, jackfruit, mangosteen, longan, rambutan).
Shark fin soup should be tried in Singapore; roast piglets seasoned with special spices; fried tofu with peanut sauce; chicken kebab with spices; saffron rice with chicken and spices; pizza with minced meat and onions; lamb with curry; spicy noodle soup (laksa); BBQ grilled stingray with sambal chili sauce (barbecued stingray); oyster omelet (fried oyster).
If you are a vegetarian, you will not go hungry in Singapore: here you can feast on Chinese vegetables with ginger in soy and garlic-based sauce (stir fried mixed vegetables); slices of potatoes fried with onions and chili (crispy potato); a dish of mushrooms and broccoli in ginger sauce.
And those with a sweet tooth will be able to delight their taste buds with chilled watermelon and melon cubes in coconut milk, puddings with mango and coconut milk, almond jelly, pastries and light cakes..
Where to eat in Singapore? At your service:
cafes and restaurants where you can order dishes from almost all cuisines of the world;
fast food restaurants (McDonalds, KFC, Burger King, Carl's Jr., MOS Burger, Orange Julius, Dairy Queen);
food courts (local eateries): Yakun (worth visiting for Singaporean breakfast and lunch), Bengawansolo (serving Chinese and Indonesian cakes and sweets), Oldchangkee (serving curry dishes).
Drinks in Singapore
Popular Singaporean drinks are tea (Chinese, ginger, iced lemon tea), teh tarik (local milk tea flavored with cloves), coffee, soy milk, fruit juices, beer, wine.
It is not a problem to buy alcoholic beverages in Singapore, but their cost is quite high..
Food tour to Singapore
If your goal is to unravel the mystery of Singaporean cuisine (a mixture of Malay, Peranakan, Chinese and Indian cuisines), then you should go on a food tour to Singapore. On this tour, you will be able to enjoy a variety of local cuisine and taste a national cocktail "Singapore Sling", going to Food Street and China Town.
On the Street of Food, you will be amazed by the evening event: from 18:00, this street is closed so that many visitors can start their meals in the open air..
And if you go on a 5-6-day food tour to Singapore, you will attend master classes in which you will learn how to cook traditional Singaporean food..
Gourmets in Singapore will have something to do - they will be able to taste dishes of all cuisines of the world here.
Photos of national dishes of Singapore