New Year in Singapore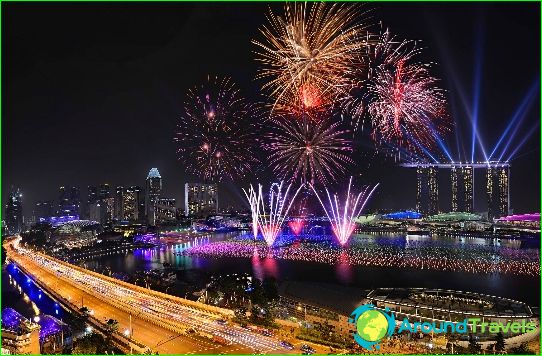 This city attracts millions of tourists every year, and there are quite legitimate reasons for this: it is difficult to imagine and find such a quantity of national exoticism, mixed with high technologies and the achievements of world civilization, anywhere in the world. Therefore, the New Year in Singapore is a real adventure that will be remembered for a lifetime. Travel companies, travel guides and guides offer a great variety of options for meeting holidays, you just need to choose those that you like.
Megapolis and its inhabitants
Start on December 31st with a leisurely breakfast in one of the city's restaurants. Guests can enjoy any world cuisine - from Chinese to Argentinean. An excellent continuation will be a river walk on the river tram, which departs from the Marina Bay promenade.
A walking promenade through the old town will give you a lot of impressions and introduce you to the architectural sights. The old Catholic monastery in the ginger grove of Raffles Park Hotel surprises on a festive evening with extraordinary lighting. From the very top of the spire of his cathedral, lights run down and rush to the decorated New Year's trees, right in the canopy of which restaurant tables are placed.
Before midnight, you can buy a ticket for the Ferris wheel and celebrate the New Year in Singapore at a bird's eye view. From here, a magnificent view of the bay opens up, and it seems that you can reach the fireworks exploding the sky with your hand..
Photos of New Years Celebration in Singapore