Excursions in Singapore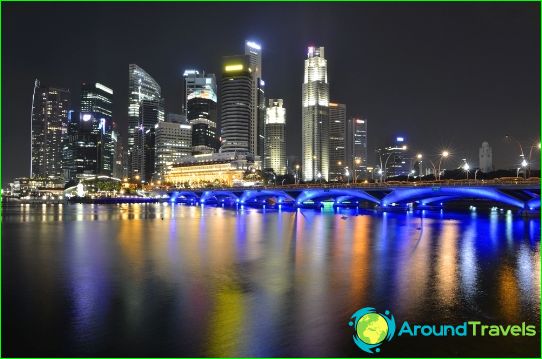 If you want to get to know Singapore better, learn its culture, traditions and see local sights, then book excursions in Singapore and discover this beautiful city..
The most popular excursions in Singapore
Numerous excursions will help you to get to know this amazing city better:
Visit meaningful and interesting sightseeing tours in Singapore, and you will see with your own eyes the modern architecture of this beautiful city, plunge into the atmosphere of a colonial port city, walk through numerous ethnic quarters, ride a Chinese junk along the Singapore River and see those extraordinary places from which everything began. history of the city.
Kalimantan, Tajong Puting Nature Reserve. You have a great opportunity to visit the Tajong Puting Nature Reserve, which is located in Kalimantan. There you will see with your own eyes langurs, wild orangutans, noses and false gavials. During the tour, you will sail on klotoks - this is the name of traditional Kalimantan boats.
Night safari. If you love animals, then be sure to book an excursion called «Night safari». The uniqueness of this excursion lies in the fact that you will visit the zoo, which is open only at night. The zoo placed particular emphasis on various representatives of the primate genus..
Sentosa Island. Once upon a time this island was called Telok Blangah. Translated from Malay, this name means «Behind the back of the dead». In the distant past, there were several fishing villages on Sentosa Island, and local pirates buried their victims here. Nowadays, a museum is open here for guests of the city. «Faces of Singapore» Is a wax museum that tells about the history of the island from the 14th century to the present day. Then you can visit the 4D cinema, an oceanarium, which will introduce you to the beautiful and amazing fauna of the tropical seas.
Excursion to the Singapore Zoo. The Singapore Zoo is considered one of the most beautiful and probably the most visited zoo in the world. It was built according to the so-called concept «open zoo». This means that there are no cages or fences. Only logs and ditches with water separate animals from visitors. So a person can get acquainted with animals that live in their natural habitat. In the zoo, you can see exotic animals that are on the verge of extinction. Here you can see close to a mouse deer, which is the smallest deer in the world, listen to how gibbons sing in the morning, feed giraffes with carrots, see how jaguars hunt.
The unique city of Singapore is waiting for you to discover its secrets!
Photos of excursions in Singapore