Swedish Holidays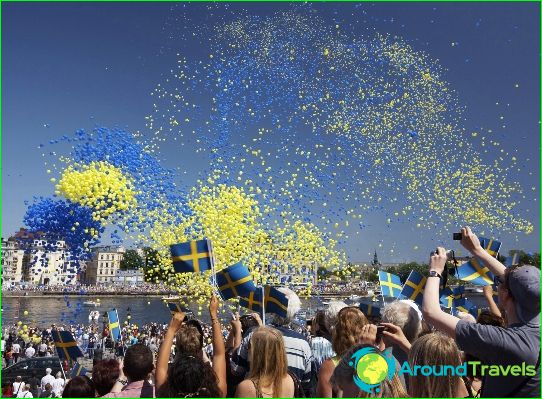 The Swedes, of course, are very restrained people by nature, but at the same time nothing human is alien to them. And the residents of the country celebrate the holidays of Sweden cheerfully and on a grand scale, however, as in other countries of the world.
Walpurgis Night
The Swedes celebrate the meeting of spring every year on the night of April 30. This night, those walking around burn huge bonfires, scaring away witches, whose sabbath also falls on this spring night. Walpurgis Night is not a time for sleep. Both adults and children go for a walk around the city at night, singing funny songs.
Midsummer festival
Sweden cannot boast of a long summer. His arrival is already felt in May, and the real peak of the heat is in mid-June. Therefore, it is in this month that the inhabitants of the country celebrate Midsummer - the Midsummer Festival. Summer Sweden in mid-June is characterized by very short nights, and in the north of the country the sun never drops below the horizon..
Midsummer is very similar to our Ivan Kupala. After Christianity came to Sweden, it changed from a pagan holiday to a Christian one. It is also customary to make huge bonfires during the Midsummer celebrations. But today the tradition has survived only in some parts of the country..
But the main celebrations fall on the evening before the holiday. Residents gather and all together sing the folk songs of their ancestors. The treat this evening looks also traditional - spicy herring under red onions, served with new potatoes. Grilled meat is next on the menu. It can be pork ribs, beef, and goose. But for dessert, it is customary to serve strawberries with whipped cream..
Crayfish festival
Crayfish fishing is prohibited in Sweden. The ban is lifted only once a year and if you are invited to a celebration, then you should not refuse.
The celebration takes a whole week and lasts from 17 to 24 August. Musical and theatrical performances are held throughout the week, and national dishes are served on the table. Kraftskiva is the longest party in all of Scandinavia. No country has been celebrating for so long.
You can buy crayfish at any store or supermarket. There are stalls with live crayfish even on the streets..
The crayfish festival is also a kind of farewell to summer. People come here not just to drink beer and eat crayfish, but also to have a good time chatting with friends.
When going to the festival, be sure to take an apron and a hat with you. This outfit can be called the official dress code of the event..
Photos