What to do in Stockholm?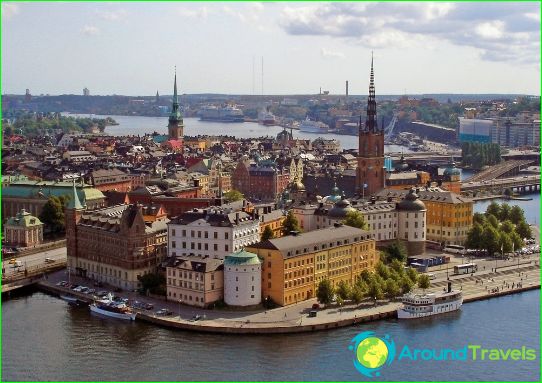 Stockholm is a beautiful and interesting city, where the first half of the day can be spent sightseeing, museums and palaces, and the second - in bars and clubs offering their visitors a rich entertainment program.
What to do in Stockholm?
Visit Vadsteni Castle;
See the Globe Arena - a large spherical structure;
Go to the Vasa Museum (here you will see a sailing ship of the 17th century, visit various exhibitions that are related to this popular attraction);
Admire the exhibits on display at the Nobel Museum;
Go to the skansen, which is an open-air museum (it is dedicated to Swedish culture);
Visit Gamla Stan (Old Town);
See the oldest church in Stockholm - St. Nicholas Church.
What to do in Stockholm?
Upon arrival in Stockholm, it is advisable to find a kiosk "PressByra" and buy a ticket from the seller for 8 metro rides "En remsa tack" - it will give you the opportunity to move around the city without hindrance. Be sure to take the subway (called an art gallery) to explore the quaint villages of Tunnelbana.
If you are going for a walk around the city, you should pay attention to Gamla Stan - here you can go to numerous museums, see the Royal Palace, the Royal Treasury, the Mint, the Royal Chapel.
If you come to Stockholm with children, visit Astrid Lindgren's Fairy Tale Museum (Junibacken) with them: here they can visit Pippi Longstocking and the heroes of other fairy tales.
You can see the inhabitants of the seven seas, tropical selva and Scandinavian lakes by going with children to the Water Museum "Aquaria". Here they will have the opportunity to look at the archer hunting a small fish and get to know Nemo (clown fish) - a cartoon character.
Having visited the House of Butterflies and Birds, you can walk through the greenhouse, where beautiful plants grow, as well as see numerous birds and butterflies flying from plant to plant.
Those who come to Stockholm for shopping will be able to satisfy their desire by visiting the business center of the capital - City (there are large department stores and shopping galleries). You should definitely go to the mall "Gallerian" and department store "Nordiska Kompaniet". Small shops and souvenir shops can be found on the streets of the Old Town..
Lovers of cultural life will be able to attend concerts, theater performances, opera and ballet performances. So, you should spend time in the Berwaldhallen Concert Hall, the Confidencen Theater, the Royal Opera, the Royal Dramatic Theater, the House of Dance.
Arriving in Stockholm, you can relax and feel the European culture.
Stockholm, Sweden)

Photos of where to go in Stockholm