Christmas in Geneva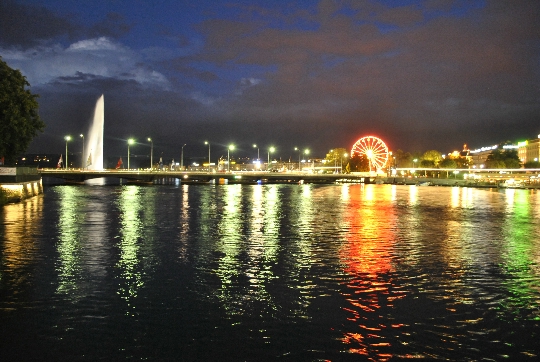 While vacationing in Geneva for Christmas, travelers will find themselves in a winter wonderland with Christmas markets and streets drowning in festive illumination.
Features of the celebration of Christmas in Geneva
4 weeks before Christmas, Swiss families decorate the Christmas tree with bells, toys and bows. Children also like to count the days left before the holiday: they are presented with special calendars with windows, behind which small gifts are hidden. Well, adults light 1 candle for the Advent wreath every week..
As for the festive meal, the hostesses put on the table puff pastries with cheese and meat, a variety of pates, ringley donuts, homemade cookies baked according to family recipes. And travelers who want to spend Christmas evening in a chic setting and enjoy national dishes should take a closer look at the restaurant "Restaurant Les Armures".
Entertainment and celebrations in Geneva
On December 12-13, Geneva proposes to celebrate the pre-Christmas event - to visit the L festival'Escalade: The festivities usually take place in New Square. A cortege with horsemen, warriors, arquebusiers and other participants dressed in costumes of the 17th century passes here, and all this is accompanied by military marches performed by drummers and flutists and demonstrative battles with muskets and pikes. And here you should definitely get the main souvenir - a chocolate copy of Madame Roye's cauldron (in 1602 she poured a cauldron of hot onion soup over the heads of the enemies, which helped save the city from capture).
A festival is taking place in Geneva during the winter holidays "Le Festival Arbres & Lumieres" - you will have a chance to admire Geneva, at this time turning into a city of light: you can see and photograph beautifully decorated trees and installations on the theme of rituals associated with Christmas.
In mid-December, you should attend a sports event in Geneva - "Christmas Swimming Cup" (Christmas Swimming Cup, venue - Lake Geneva): here, those who wish can watch how the competitors cover a distance of 125 m in icy water.
On holidays, go to the free skating rink at Place du Rhone (don't forget to take your skates with you) or take a cruise on Lake Geneva (those who wish can combine the cruise with a tasting of local food and wine).
Christmas markets in Geneva
On the 20th of November, a festive trade takes place in Geneva, where visitors inhale the aromas of cinnamon, candles, pine needles and baked goods..
The Geneva Christmas market can be found on Place Fusteri - people go here to purchase Christmas souvenirs and decorations, cheeses sold in the chalets located here.
And if you wish, you can go to the Montreux Noel Christmas market in Montreux - strolling through its stalls, you can get handicrafts and colorful trinkets. Workshops for children are also open here..
Photos