Tours to Geneva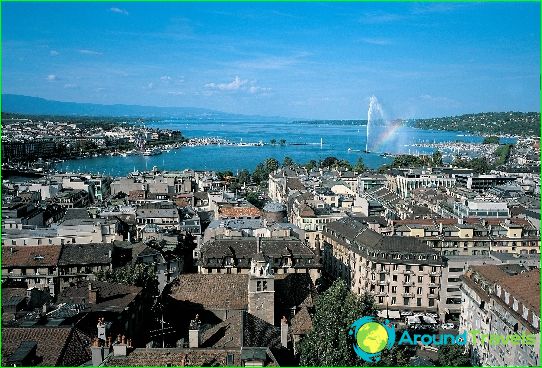 One of the most beautiful cities in Europe and a quiet haven for those seeking peace and solitude, Geneva attracts travelers with many invaluable advantages. Here you can find truly Swiss cheese and chocolate in supermarkets and pastry shops, and by buying a watch, guests of the city reduce the chance of running into a fake to a minimum. Geneva has clean alpine air, short distances between attractions, and the direction of the wind can be determined by the jet of a huge fountain, gushing directly from Lake Geneva. In a word, for those who value comfort, solidity, classics and beautiful landscapes, tours to Geneva are a suitable way to change the situation for a few days..
History with geography
Geneva is the capital of the French-speaking region of Switzerland. It is located on the shore of the lake of the same name in the very south-west of the country and is the location of the headquarters of reputable international organizations - the UN, for example, and the WTO. The first mention of a settlement in these places dates back to the 1st century BC. In the future, Geneva passed from hand to hand many times until it became part of Switzerland in 1815..
The Rhone River, flowing into Lake Geneva, divides the city into two parts, and its natural surroundings are mountain ranges - the Alps and Jura. A local famous is Mont Blanc. This highest peak of the Alps is visible to participants on a tour to Geneva from anywhere in the city, and you can reach its foot by car in less than an hour..
Briefly about the important
A direct flight from the capital of Russia takes just over three hours. For passengers of all airlines, there are vending machines at Geneva airport that issue a free pass to the city center. Tickets are valid for trains running from early morning until midnight, and the validity of such a ticket is 80 minutes from the moment of receipt.
This does not end communism in a single Swiss city, and when checking into any hotel, a guest can get a pass for any type of city transport, except for a taxi. The validity of the document is not limited and during their stay here participants of tours to Geneva can use this ticket.
But the prices for hotels, on the contrary, bite a little and even living in a simple hostel can pretty much shake the family budget of an average tourist..
It is better to postpone the purchase of typically Swiss souvenirs until your departure. In airport duty-free shops, the assortment of chocolate, knives and even watches is not inferior to the choice in city shops, but the prices are a little nicer.
Geneva, Switzerland)

Photos