Holidays in Switzerland in June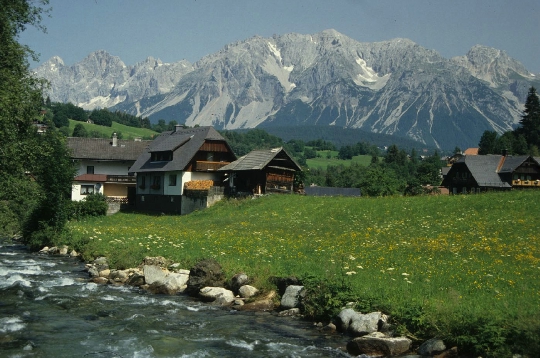 This small European state has long been ranked among the most calm and stable, the adjective «Swiss» has long been a symbol of quality, no matter which noun it stands next to. The real brands of the country are chocolate, watches. A tourist who has chosen a vacation in Switzerland in June will be able to enjoy the majestic mountain landscapes, the incomparable architecture of the old city quarters, the level and quality of service..
Weather in Switzerland in June
The first month of summer in different regions of the country manifests itself in different ways. In the Alps, night frosts can be noted, river valleys from time to time are filled with coolness and winds, forcing tourists to put on warm clothes.
The temperature in the mountains is close to + 15 ° C, on the lakes it is much higher, about + 23 ° C. It's nice that the water temperature is not much behind, at +18 ° C you can already take invigorating water procedures.
Rhine Falls
One of the points of travel in June Switzerland can be a visit to the Rhine Falls. Scientists have calculated that he is the record holder in terms of the volume of the overflowing water flow among the European counterparts. The width of the Rhine Falls is about 150 meters, the height is more than 20, the beauty cannot be measured by any parameters or epithets.
There are several ways to get acquainted with this amazing natural phenomenon. For example, viewing platforms that are located on the southern and northern banks of the Rhine. But the most amazing sensations are experienced by tourists who swim up to the waterfall by boat.
After visiting the waterfall, you can continue your journey along the Rhine, reaching the town of Renau. During the cruise, the guides will acquaint tourists with the history of the country's main attraction, tell many local legends and traditions..
Pie in the sky
The name of the Gruyère castle comes from this beautiful and proud bird, which now adorns the family coat of arms of the owners of the castle, and the coat of arms of the city too. For five centuries this castle served different generations of the Gruyeres family, then after the bankruptcy of the last representative of this family, it changed owners many times until it was bought by the canton of Friborg. It is clear that time could not but leave its traces, the architecture of the castle complex clearly contains different styles and elements, up to the baroque.
An interesting point is that the castle of Gruyeres still produces cheese with the same name. Moreover, the process of cheese making lasts only three months, from July to September..
Vacation photos in Switzerland