New Year in Bangkok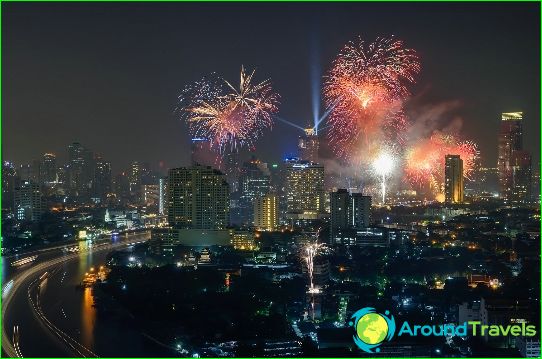 Thais celebrate the coming of the next year as many as three times. In this they gave a head start even to the Russians. The first celebration takes place with the whole world on the night of December 31. The inhabitants of the kingdom do the second approach at the same time as the Chinese. Here the timing of the New Year's Eve floats, but it usually happens in January-February. And finally, on April 13th Songkran begins - the day when the year changes according to Thai customs. This means that you can celebrate the New Year in Bangkok at least three times..
Shopping is the best dope
The capital of the kingdom is one of the most densely populated and colorful megacities on the planet. Celebrating New Years in Bangkok is a great option for those who want to have fun and huddle in a noisy crowd, taste exotic dishes and participate in shows on the verge of foul.
When choosing a hotel in the capital, you should remember that the declared stardom may turn out to be a myth, and the most inexpensive, but very decent hotels are located in the Pratunam area..
You can start shopping at Chatuchak Market on weekends and at the Taling Chan Floating Bazaar. Both options allow you to bargain to the last, and in terms of exoticism they can be equated to an ethnographic adventure. An important rule: watch out for wallets and bags! The city does not dispose to mindlessly hovering in the clouds.
Festive dinner with ... dragons
You can arrange a festive Christmas or New Year's dinner in the capital of the kingdom right on the street, having a snack on barbecue cooked on a trolley-maker, or go to your favorite restaurant. One of the most expensive, but worthy of attention due to the magnificent panoramic view is considered «Sky Bar». It is located on the 63rd floor of the State Tower skyscraper.
Many interesting restaurants are located in the Lumpini Park area. An additional bonus to the pleasant prices for lunch can be a gorgeous sight in the park itself: one and a half meter lizards roam along the lake and sometimes even cross the nearby multi-lane highway. The best idea for a New Year's photo shoot is hard to come up with. Here on the grass, Thais love to have picnics. Why not an idea for a Christmas dinner with real dragons?
Photos of New Years celebration in Bangkok