Bangkok shops and malls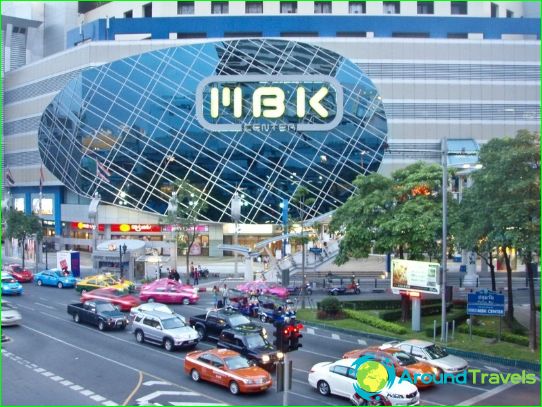 Bangkok is the capital of Thailand or, as it was once called, Siam. Due to its convenient geographical location, the city initially developed as a commercial port, later palaces of rulers and local nobility appeared in it. The ancient port has grown into a multimillion-dollar modern city and a great place for tourists who prefer to combine acquaintance with the cultural heritage of ancient civilizations and shopping. You can shop comfortably in numerous shopping centers or go for local products and flavor in equally diverse markets..
Electronics is an important source of income for Thailand and Bangkok in particular. In numerous shops, markets and shopping centers, you can buy both branded gadgets and their fake.
Pantip Plaza is 5 floors of official stores of famous manufacturers of electronic equipment: computers, software, photographic equipment, components.
Electronics can be purchased at good prices also in the shopping center MKB or Big C.
Fortune Town Mall offers both new and used equipment, as well as the opportunity to bargain and drop the price.
Pratunam area is a popular shopping area in Bangkok. There are large department stores MVK, Central World Plaza, Siam Paragon, Erawan.
Central World Plaza is a seven-story shopping mall. ZEN and Isetan department stores took over the lion's share of the space. There is also a boutique of democratic women's fashion Sultanna Frantsuzova and a store with custom clothes Jira & Gunyah. Mass markets are represented by brands ZARA, Esprit, Castro, Benetton, Guess. Harnn and Chivado boutique presents locally produced cosmetics. On the top floor - next to a large cinema - there is a duty-free shop. Restaurants with cuisines of the peoples of the world are scattered throughout the shopping center. And if food isn't your way to relax, you'll love massage parlors and hair salons..
Paragon shopping center is full of Thai fashion brands that have gained popularity. There are both neutral classic fashion trends and extraordinary Grayhound or Boudoir by Disaya. There are also boutiques of luxury brands - Prada, Salvatore Ferragamo, Dolce & Gabbana, Bvlgar.
Jim Thompson - stores of this popular chain sell a variety of silk goods: scarves, bags, hairpins and even silk business card holders.
Airport shopping is a special story. A whole day may not be enough to go around all the shops with clothes, souvenirs and fruits. You can also find postage stamps with the Thai cheerful hero - Mr. Pi..
Photos of Bangkok shops