Things to do in Bangkok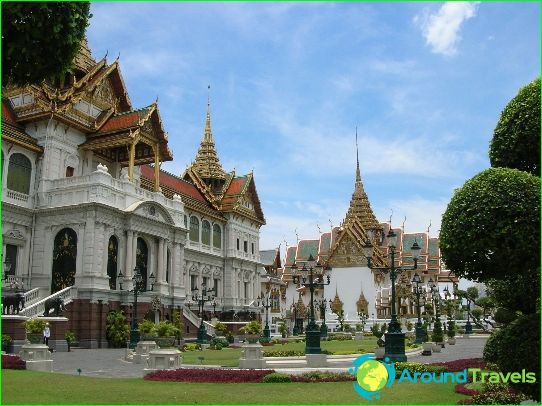 Entertainment in Bangkok is both spectacular night programs and relaxing Thai massage.
Amusement parks in Bangkok

"Siam Park City": This amusement park consists of several zones, so you can relax in the amusement park, water park and theme park museum. In order not to overpay and be able to visit all the attractions of the park, it is advisable to purchase a bracelet at the entrance. Do you consider yourself a person who loves extreme sports? Go down the three-story "Super Spirals".
"Dream world": here you will meet fairy-tale characters, take part in show programs, ride various attractions, walk along the alleys, admiring the fountains, see famous architectural miniatures in the form of the Eiffel Tower and the Cheops Pyramid. Those who wish can ride through the park on a cable car or on a walking train. This amusement park regularly hosts carnivals and festivals, accompanied by fireworks and festive performances in honor of significant events..
What entertainment in Bangkok?
You can have fun in the Siam Ocean World Oceanarium (there are 7 thematic zones) - here you can see both small fish and huge sharks. In addition, here you can visit a 4D cinema and ride mini-attractions.
Another interesting entertainment can be watching the Siam Niramit show - through a bright show, its participants (actors and trained animals) will tell about Thai history, its life and way of life..
Lovers of nightlife at dusk should head to Soi Cowboy, famous for its strip clubs and bars..
Fun for kids in Bangkok
Children should be delighted with a visit to the Safari Park and its thematic zones - Safari World and Sea World. Visiting the first zone, they will be able to see how giraffes, lions, tigers, antelopes, zebras and other animals live (for safety, guests are offered to move around the park in a private car or in an armored minibus along equipped roads), as well as see the feeding process of predators. In the Sea World, guests are invited to watch performances, in which the main role is played by white tigers, monkeys, seals and dolphins, to feed the animals, climb to the platforms equipped for this purpose, and go on a trip along the river. If desired, your kid can have fun in the children's entertainment town (there is a water park and carousels), which is located here, in the Safari Park.
With children, you can go to the Children's Museum of Discovery, where they can walk through various galleries ("The science", "Body and mind", "Technology", "Nature and environment") and master new knowledge. And they will be able to rest in the fresh air on the playground located next to the museum..
The capital of Thailand invites its guests to go for a walk along the canals or go to the Rose Garden, have fun in nightclubs "Sugar", "Dude", "Bed supper", admire the panorama of the city from a height of 84 floors of the tallest hotel in Thailand ("Baiyoke sky").
Bangkok landmarks, markets and temples

Photos