Streets of Bangkok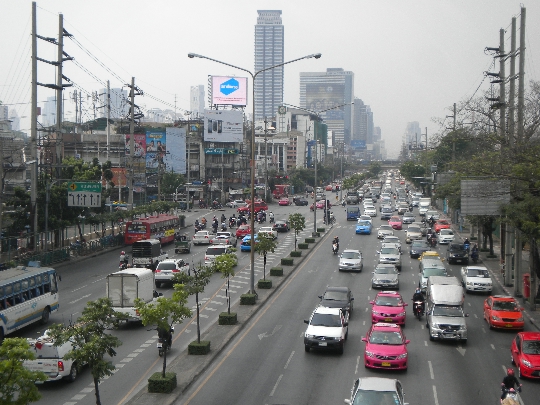 The most significant city and capital of Thailand is Bangkok. The cultural and business life of the kingdom is concentrated in it. The streets of Bangkok are characterized by chaos and contrast between old and modern. The city is developing dynamically and is considered one of the brightest megacities in Southeast Asia. On its streets you can see ancient and administrative buildings, temples, museums, modern residential buildings and other objects..
The Chao Phraya River divides Bangkok into two large parts. The western region is Thonburi, the eastern is the historical center. Monuments and unique structures are located mainly in the Ratchadamnen area and on the Rattanakosin island. Calm and quiet area is Thonburi, where there are interesting architectural objects.
Sukhumvit
It is considered the central artery of the kingdom. It is the longest and largest street in Bangkok. There are few tourist attractions here, as well as on the surrounding streets. Sukhumvit attracts with shopping centers, hotels, restaurants, bars and cafes. People who want to have fun and visit clubs and shops come here..
This modern neighborhood is the epitome of a vibrant metropolis. High-rise buildings, chic boutiques and entertainment centers are located along the street. Sukhumvit has hotels of different categories, from premium to budget.
The central street of the city is also the financial center of the country. It is considered the longest road on the planet and the main highway in Thailand, which runs from Bangkok to Trat along the coast. Sukhumvit passes through Pattaya, Sattahip, Rayong and other localities.
Khaosan
Khao San is an attractive street in Bangkok. It has a length of about 400 m, occupying a small area in the center of the city. Previously, a rice market was located on the site of this street. Currently, Khao San is considered the center of attraction for tourists..
Silom Road
Silom Road is located next to Hualam Pong railway station. It is home to offices and diplomatic missions. Food stalls, boutiques, kiosks and shops are concentrated along Silom. The two largest department stores can be found here. There is a night souvenir market on this street..
Chinatown
Chinatown Chinatown is formed by three main streets and multiple lanes. It is located in the center of Bangkok and is a vast area that surrounds Yaowarat Street. This street is considered the central artery of the quarter. Chinatown has a colorful and noisy atmosphere.
Bangkok street photos