Excursions in Bangkok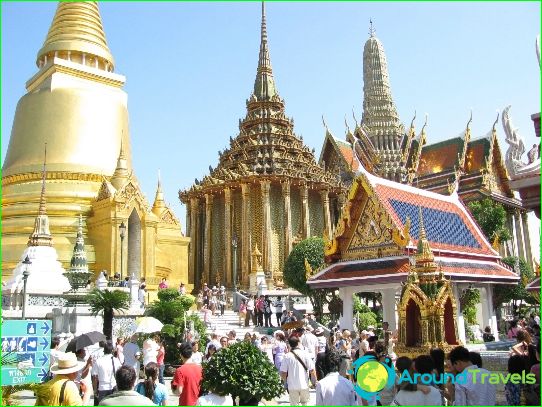 Many people choose Thailand for their holidays and more and more not because of the mild climate and beach holidays. Tourists are attracted by the rich culture of this amazing Buddhist country. Even those who come here to sunbathe and swim will sooner or later be included in excursions around Bangkok. After all, capital Bangkok is a wonderful place for sightseeing..
Bangkok landmarks
The most significant landmark of Bangkok is the Royal Palace ensemble. But this is not only a palace in our usual view, it is a huge territory occupied by temples, monasteries and other equally interesting sights. For example, the giant ritual swing Lac Muang, which consists of two huge teak pillars connected by a carved crossbar. According to legend, if you swing on this swing, it will change a person's life for the better. However, skiing was banned, considering it a very traumatic occupation. It happened in the 1930s.
In addition to the grandiose temple buildings, which are unusually beautiful in the evening, when they are illuminated by many spotlights, Bangkok has museums, an art gallery, a planetarium and a cultural center. The capital cannot do without the National Theater. And becoming a visitor to the National Museum of Thai Art is in many ways to enrich your horizons..
Sightseeing tours in Bangkok can take a whole day or more. Therefore, it is worth giving a list of those attractions that may be the most interesting:
Royal Palace.
Temple of the Emerald Buddha.
Wat Arun.
Bangkok National Museum.
Wat Ratchannada.
Bangkok marble temple.
Wat Saket on Golden Mountain.
National Royal Barge Museum.
Temple of the Golden Buddha.
Rattanakosin.
Complex of temples Wat Pho.
Aquarium «Oceanic world of Siam».
The National Royal Barge Museum is one of a kind. It is located near the Klong Bangkok Noi Canal, near the Phra Ping Klao Bridge. Its exposition contains several extremely elegant royal barges, somewhat reminiscent of the famous gondolas of Venice. These barges adorned with gold were commonly used in ceremonies. But the most amazing thing is that they found themselves used as military courts. Among them, the most beautiful barge that bears the name stands out «Suphanahong». She never took part in battles, but was only used for the Royal River Procession when the Kathin ceremony took place. This is a Buddhist ceremony of presenting gifts to monks, which is traditionally held in October-November.
Bangkok landmarks, markets and temples

Photos of excursions in Bangkok