Attractions in Pattaya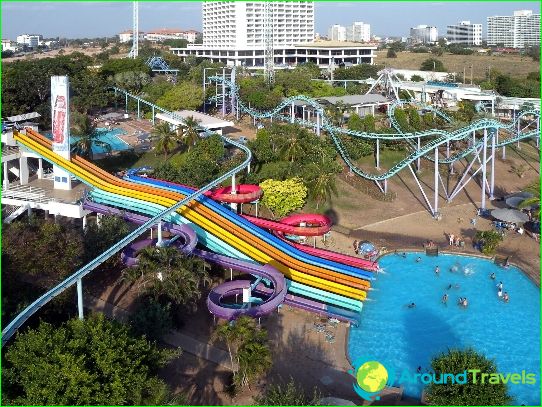 Pattaya is the most active resort in Thailand. Contrary to the prevailing stereotype, it will be of interest not only to strawberry lovers, but also to all other tourists, especially those who are attracted by outdoor activities. The beaches here are far from the cleanest and most welcoming, but the attractions in Pattaya may well give odds even to many European resorts. So travel to this city won't be boring anyway..
Pattaya Park
This amusement park belongs to the Pattaya Park Beach Resort. At present, it is considered a kind of curiosity, because the tourist infrastructure is just beginning to develop actively and classic amusement parks are not yet widespread here. Here the traveler is expected: cable car; classic amusement park; mini water park; revolving restaurants.
The latter are generally considered branded «counter» of this particular institution. The hotel building itself is an attraction. Its observation deck is located at an altitude of 240 meters, so you should definitely go here - the best panoramas for photos cannot be found in all of Pattaya..
The park is open from 9.00 to 18.00, and the ticket costs 100 baht. Children under 80 cm are admitted free of charge. Sun loungers and other equipment can be used free of charge.
Adventure Park Pattaya
Located very close to the center of Pattaya. Here you can ride elephants and horses, drive an ATV or a buggy, and if you wish, you can also shoot from various types of small arms. Despite all the fun of elephant rides and off-road conquest, it is the shooting range that is the most significant part of this park. At the moment, it is considered one of the best in the world, as well as the cheapest..
Flying Hanuman
This attraction can be recommended to real extremists. The essence of this attraction is very simple - the traveler sits on a special platform located 50 meters above the ground, and then rushes over the jungle at a speed of 60 km / h.
There are several excursion programs, from the shortest and simplest, including only the descent, to the longest. During the latter, the excursion begins with a trip on cable cars and suspension bridges, then the tourist is treated to local delicacies, after which the most interesting begins.
The economy option will cost an average of 1800-2000 baht, while longer and more intense excursions will cost 3000 baht and more. However, the impressions received will more than pay off the costs..
Photos of attractions in Pattaya