Tours to Pattaya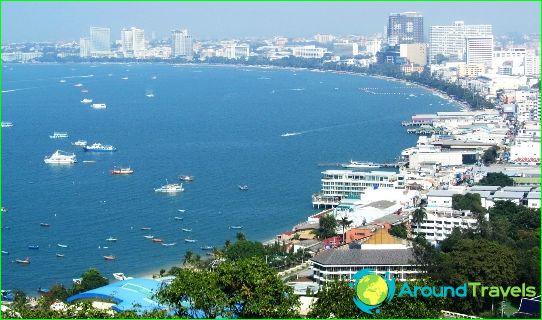 The most resort of all Thai cities, Pattaya is located on the shores of the Gulf of Thailand. There are no large industrial enterprises here, and almost all residents of the city work in the tourism sector. Going on tours to Pattaya, it is enough to take your passport and credit card with you, and everything else at the resort can be bought or rented inexpensively..
About weather and nature
The subequatorial climate in the city provides a distinct rainy season. The wettest period starts in Pattaya in March and ends only in November. During the summer months, the amount of rain falls slightly, but the air remains humid. Heavy rain record holders - September and October.
The optimal dates for a tour to Pattaya are December, January and February. During this period, the air temperature is close to +30, but the absence of heavy rainfall makes the weather comfortable and favorable for rest..
Briefly about the important
When booking tours to Pattaya, it is important to know that the international airport is located 40 km from the city, and therefore you will have to take care of the transfer.
The entire coastal strip at the resort is occupied by beaches. In the very center of the city, the water during the high season can be rather muddy, and therefore it is better to book hotels in the north or south of the beach area.
A tour of Madame Nong's Botanical Garden should get its place on the must-do list on your Pattaya tour. One of the most beautiful parks in Southeast Asia invites guests to get acquainted with hundreds of amazingly beautiful orchid species.
For children and adults, the resort has many farms where you can see performances with animals. Tigers and crocodiles, elephants and monkeys willingly demonstrate their skills under the vigilant control of homo sapiens.
For lovers of a particularly clean sea, old-timers recommend sunbathing and swimming on Koh Lan Island, located in the Pattaya area. On the islands you can go paragliding and diving, go fishing and try to catch a wave on the surf.
Golden buddha
Among the attractions worth visiting during your tour to Pattaya is the Golden Buddha, carved into the side of Khao Chi cliff. Its height exceeds 100 meters, and the image is dedicated to the half-century anniversary of the reign of King Rama IX. Despite the fairly young age of the attraction, which was opened in 1996, the Buddha enjoys great attention of tourists coming to the resort..
Photos