Water parks in Pattaya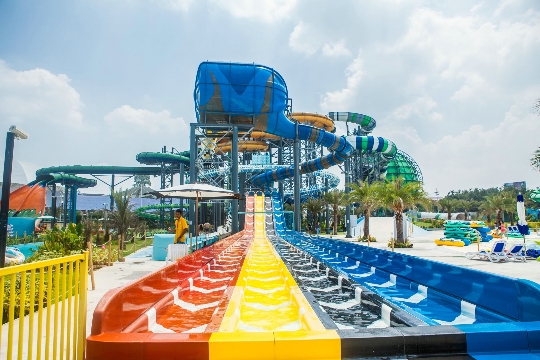 While vacationing in Pattaya, you should pay attention to water activities, in particular, local water parks with various attractions.
Water parks in Pattaya

"Pattaya Water Park": here you can spend time in the diving center, visit the sauna, jacuzzi and fitness center, slide down various slides, sit in the shade of mushroom tents, spend time in the ring pool. Well, for younger guests, there is a children's area with a playground and a swimming pool. A visit to the water park for adults costs 100 baht, and for children over 1 m - 60 baht.
Aquapark "Cartoon network amazone": it pleases visitors with extreme slides ("Gooploop", "Omnitrix", "AlienAttack"), Adventure Zone with "Rainfall rainicorn", "JakeJump", "Banana spin", Children's area with 150 water attractions (children will meet cartoon characters here). In addition, here you can go surfing in the artificial wave pool, as well as attend entertainment shows. Entrance fee: an adult ticket (from 13 years old) costs 1500 baht, and a child ticket (3-12 years old) - 1190 baht.
"Ramayana Water Park": it will open at the end of 2015 and will delight guests with 14 zones, which will include a lazy river, attractions "Vortex" (slides with funnels), "Flurider" (involves riding a board on an artificial ocean wave, reaching a height of 2 meters), "Aqua roller coaster", "Aqualup" (rolling on a pipe inside a hermetically sealed transparent capsule), "Inner tube slide" (descending a closed tube on a boat that "throws" from side to side), a children's corner with a pool, fountains and mini-slides, a stage with a screen (broadcasting footage from the life of the park, organizing concerts). Estimated entry prices: 500 baht for the youngest visitor and 900 baht for the adult.
Water activities in Pattaya
For a beach holiday, the beaches of Naklua Beach (families with children, windsurfing, has bars where you can order snacks, soft drinks and cocktails), Wong Prachan Beach (measured + family vacation), Jomtien Beach (here you can have a picnic, as well as go kiting or surfing, water skiing, Thai and European dishes at local restaurants).
From water activities in Pattaya, a visit to the aquarium is available "Underwater world" (adult guests pay 500 baht for entrance, and children - 300 baht, and if they are below 90 cm, there is no need to purchase a ticket for them) - here you can see more than 2500 marine inhabitants (zone 1 - rare fish, zone 2 - cartilaginous, Zone 3 - sea turtles and bream swimming near the model of a sunken ship, Zone 4 - fish from the Amazon) and the process of their feeding (fish, for example, carp, you can feed yourself, paying only 20 baht), as well as dive into a pool with sharks, turtles , stingrays and other "living creatures" (this activity is available for an additional fee for visitors with a dive certificate).
Photos