Tunisian beaches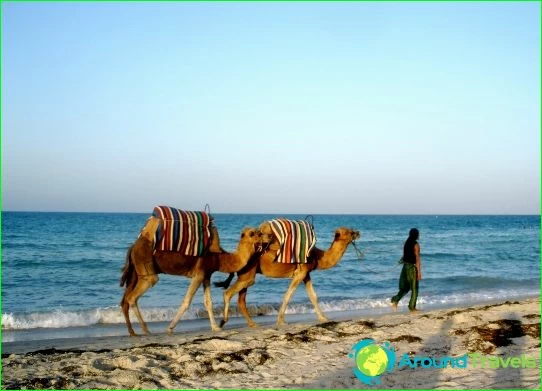 Many tourists believe that the beaches of Tunisia are the best place for seasonal relaxation and relaxation on the hot sand. Interestingly, absolutely all the beaches in the country are free and subject to the jurisdiction of the local municipality. The coast of Tunisia itself is a very long beach, but not all of its territory is suitable for a good rest.
An abundance of beaches in Tunisia
The youngest beach in Tunisia is Madhia. The sands here are golden and very soft - children really like it. They can completely sculpt sand castles without hindrance, bury themselves in it even up to their necks and frolic. But for those who like active rest, the Sousse resort is better suited. They swim here much less often than visit nightclubs and discos, and the variety of offers with sports equipment is simply amazing. A similar assortment is offered to vacationers and the resort of Port el-Kantaoui. Here you can have a good rest in a local bar, take part in a gambling game in a casino or dance in a nightly disco. Another good area for relaxation is Monastir beach with Skanes area, which belongs to it. Rest here will be extremely calm, so this place is suitable for those who are not a big fan of noisy companies..
The magnificent island of Jebra
Jebra Island is considered the sunniest and southernmost place in Tunisia. The best sandy beaches of Tunisia are located here. The water is crystal clear and the palm groves provide coolness and shade in the midday heat. The landscape is very unusual, especially for domestic tourists who are not used to resting under palm trees. There are several top quality hotels on the island, with four or five star service. A large number of recreational centers make Jebru Island an almost universal resort. The sand is soft creamy, and the entrance to the water is gentle and extremely safe. The island is suitable for family holidays, because parents do not have to worry about the safety of their child..
Holidays for those who have money
The beaches of Sousse are considered the cleanest in Tunisia, and this opinion was formed on the basis of comments from both visiting tourists and local residents. To explain this phenomenon is quite simple - the overwhelming majority of these beaches belong to the territory of expensive luxury hotels. It provides rental of windsurfing, as well as all the necessary equipment for spearfishing..
Also on the beaches of Sousse it is possible to do the following:
fishing using rented or own equipment, paying a small amount for a fishing permit;
visit numerous bars, get acquainted with the cuisine of various cultures and nationalities;
enjoy the indescribable beauty of the local landscape.
Photos of the beaches of Tunisia