Holidays in Tunisia in November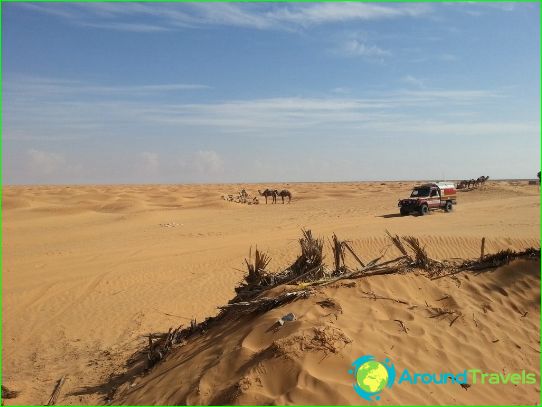 Despite the fact that in November in Tunisia the weather is not very stable - the rainy season, sometimes a cool wind blows, sharp changes in day and night temperatures - there are a lot of tourists here. Of course, they no longer come here for the sake of swimming in the sea, because the water temperature does not exceed + 15 °. But on the shore you can still find rare sunbathers who have caught the moment when the sea is quiet. It attracts with its beauty at any time of the year. In November, the sea is rough, but its high waves are simply mesmerizing.
But everything is learned by comparison. For Russia, November is practically winter, and in Tunisia, although it is cool, the weather is still summer. And if the purpose of visiting the country is acquaintance with its sights, why not go to Tunisia in November?
What to see in Tunisia in the last month of autumn

The town of Sidi Bou Said is attractive for its luxury. He is considered the richest in the country. The law passed 100 years ago on preserving the appearance of buildings unchanged allows the present tourist to see the preserved ancient architecture. Art critics, poets, artists from all over the world believe that this place is the embodiment of history.
Holidays in Tunisia in November can be spent with health benefits. Each of the numerous thalassotherapy centers will offer a lot of all kinds of rejuvenating procedures: seaweed wraps, therapeutic mud baths, massages. Thalassotherapy is an excellent tool for losing weight and increasing stress resistance.
November is the most suitable time to travel even to the Sahara, and, moreover, with children. At this time of the year, the lake of the Shott el-Jerid desert, which is usually dry, is filled with water due to numerous rains. But do not forget that it is cold in the desert at night, and you cannot do without a warm jacket..
Holidays in Tunisia in November
Tunisia has many festivals in November. 7th - New Era Day, a holiday in honor of the coming to power of Ben Ali, the country's president. Celebrations, festive ceremonies, entertainment programs are held.
The Festival of Oases takes place in the city of Torez from 3 to 6 November. Tourists are invited to take part in various competitions, national sports, and also watch camel races.
From 8 to 11 November, the Sahara Festival is held in Douz. These days, the population of a small town is increasing several times. Nomads, villagers and oasis dwellers come here.
Thus, Tunisia is not boring at all in November. And the prices for rest and accommodation are much lower than in the summer season. Last-minute tours can be purchased very cheaply..
Photos of rest in Tunisia