The best resorts of Tunisia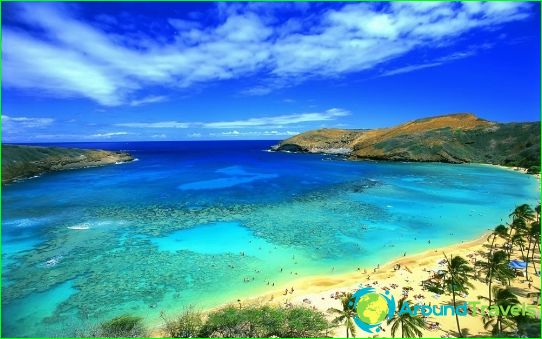 Tunisia is an amazing Arab country located in the northern part of Africa. Medieval fortresses, monuments dating back to the time of the Roman rule, and unique Moorish architecture - all this awaits travelers who have chosen this country. The best resorts in Tunisia provide their guests with a versatile vacation and are ready to satisfy all their whims.
Hammamet
Most «old» tourist center of all Tunisia. This is evidenced by the ruins of Roman baths discovered by archaeologists. The resort area occupies fifteen kilometers of the sea coast. Its snow-white beaches, famous for their good weather, have gained particular popularity..
Hammamet is the greenest and most colorful resort in the country. The magnificent alleys, which are dominated by lemon trees and olive palms, are a great place to stroll around the city. In addition to this splendor, many exotic plants grow here, combining almost the entire color palette. But the main color shades of Hammamet are white, green and blue. Snow-white houses, lush green groves and bright blue sky and sea will forever remain in the memory of the guests of this city..
Sousse
Sousse, nestled in a bay near Hammamet, is also the most beautiful Arab city with a well-developed infrastructure. Splendid modern hotels located in old streets surrounded by olive groves attract many tourists.
The Ribat Monastery, founded in 780, is the watchtower of Nador, which you should definitely climb and view the city from above. Fans of archeology should definitely visit the museum located in the Kasbah fortress, which contains many ancient finds. In the city museum you can see unique mosaics and frescoes.
Sousse is also known for its delightful sandy beaches, the best in the whole country..
Monastir
It is the largest tourist center in Tunisia. There is an airport, large educational institutions, magnificent hotel complexes, green parks and chic shopping centers. Arriving in Monastir for the first time, you will certainly be surprised by the architecture of the city itself. Here, old provincial streets are in complete harmony with modern wide avenues.
The resort is perfect for a beach holiday. During the day, in addition to lying idle under the rays of the Tunisian sun, you can go and sit in numerous restaurants, visit souvenir shops or just walk along the beautiful streets of the city. Monastir is not distinguished by a noisy nightlife, so if you live like a real owl - sleep during the day, becoming active only with the onset of the evening, then this city is not for you.
The best resorts in Tunisia will present their guests with exotic Arab architecture, harmoniously coexisting with modern hotel buildings, magnificent beach areas, a variety of shops that are ready to satisfy all the needs of shopaholics. No one will be bored here.
Photos of the resorts of Tunisia