Tunisian shops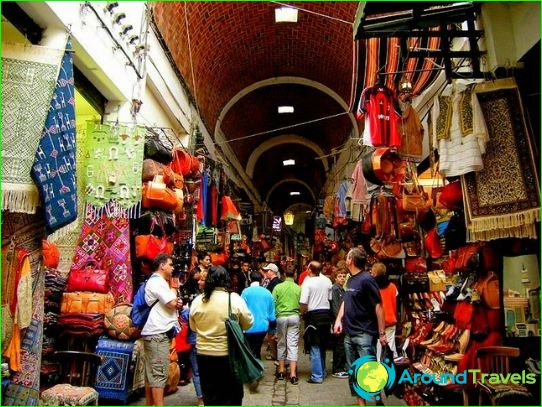 Tunisia is the name of both the country in the north of Africa and its capital. To attract guests, Tunisia skillfully uses its advantages - white sand beaches, the amazing Sahara Desert, the remains of buildings from the times of the Roman Empire and the cultural heritage of Arab traditions..
Tunisia has sought to compete with Turkey for holidaymakers in recent years. But when it comes to shopping, the country lags behind its competitor..
Popular retail outlets
Every hotel has its own shops with the most demanded goods. However, the prices in them do not differ in adequacy and you will not get any special emotions from shopping in the hotel stores. It is much more pleasant to walk along the shopping streets of the city.
The main street of the capital - Avenue Habib Bourguiba has a length of 1.5 km and connects Lake El-Bahira with the gates of the old city. For reference - in the cities of North Africa, the central ancient part of them is called «medina», which in translation simply means «city». Almost all the shops of the capital have accumulated on the main street and in the small streets adjacent to it.. «Palmarion» together with «Le Chapmyon» the largest local department stores. There are few expensive brands in them. Preference is given to brands such as Benetton, Lee, Dim, Lacoste, Mustang. There is plenty to choose from, however, many buyers note that for the same money, they sell gizmos no worse at home. Tunisian factories Mabrouk, Makni, Barsous produce fine knitwear, their stores are located in these two large department stores. There are also large grocery stores in them, which can be visited for a dizzying selection of oriental sweets..
Avenue Habib Bourguiba ends at the gates of Medina - we go there, behind these gates. The old town is full of authentic shops. It sells figurines of camels made of leather and wood, ceramic bowls with Arabic blue painting, hookahs, pendants «hand of Fatima», bracelets, beads, slippers and shoes with curved toes made of camel skin, silk and woolen carpets, clothes made of the lightest fabrics. The aroma of spices and incense is in the air. The perfumery quarter of the Medina - el-Attarine - is very interesting. Local shops are like a chemical laboratory, only not modern, but mothballed several centuries ago and revived in our time. The shelves are lined with strange-looking bottles with unimaginable shapes. And inside - no less striking smelling incense or ingredients for their preparation.
Photos of Tunisian shops