Holidays in Antalya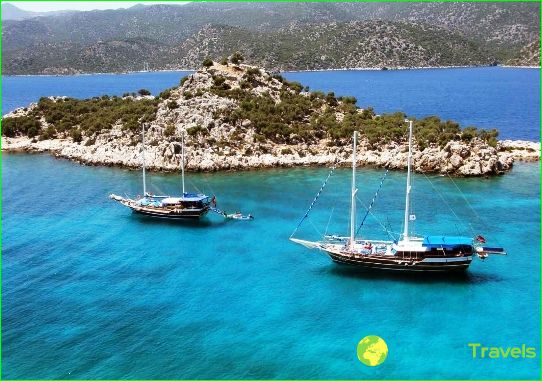 Holidays in Antalya are hotel and entertainment complexes, nightclubs, shopping centers, luxurious villas and ruins of medieval bastions, parks and first-class beaches.
The main types of recreation in Antalya
Excursion: as part of the excursion programs you will see the Hidirlyk Tower, Hadrian's Gate, Ivli Minaret, Mount Tunektepe, visit the Archaeological Museum, the Duden waterfalls, the Mini-City park of miniatures, walk through the Karaalioglu park (there is a tangerine grove, fountains, sculptures) and Kaleici area.
Active: active tourists can have fun in the ClubArma and JollyJokerPub nightclubs, spend time in the Dedeman and AquaLand water parks, the AntalyaAquarium, go rafting, canyoning, diving, surfing, trekking, sailing.
Beachfront: you should pay attention to Beach Park - during the day you can relax here, and in the evening - have fun at incendiary parties. This sandy beach is a great place for vacationers who come with children (clear water, gentle entry into the water). It is worth noting that there is a park area nearby, equipped with tables and barbecues (if you wish, you can arrange a picnic). Those wishing to relax on the pebble beach should take a closer look at the Konyaalti beach - here you can rent a tablet or a jet ski, and also play beach volleyball.
Event-driven: it is worth coming to Antalya during the Flower Festival (May), the Opera and Ballet Festival (June), the Honey Festival (August), the Antalya City Culture Festival (September), the Golden Orange Film Festival (September).
Prices for tours to Antalya
The best time to visit Antalya is May-October. The most expensive tours to Antalya are implemented in June-August. But if your goal is to get good deals, head to this Turkish city during the low season (December-March), when the prices for tours are dropping to the limit (you can go sightseeing and go shopping). Arriving in Antalya in winter, you can relax at the nearby Davras ski resort (located 1.5 hours drive from the city).
On a note!
When entering mosques and residential buildings, you must take off your shoes, and before the excursion, pay special attention to your outfit (tourists dressed in open or bright clothes are not allowed to enter the territory of many attractions). Many places of interest can be easily reached by bus or taxi (you can catch a car on any street, but it is advisable to negotiate the price before boarding).
It is advisable for waiters in cafes and restaurants to leave 5-10% of the order for "tea". In addition, it is appropriate to leave small monetary rewards for maids and porters in hotels..
As a souvenir of your vacation in Antalya, it is worth bringing oriental sweets, spices, jewelry, Turkish rugs, fur and leather goods, ceramics (jugs, plates, cups and saucers).
Antalya

Photos of rest in Antalya