Holidays in Istanbul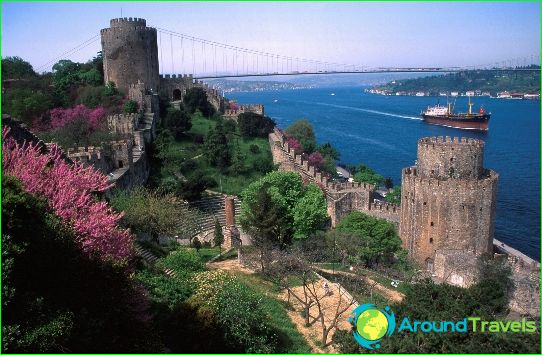 Rest in Istanbul is chosen by all groups of tourists - shopaholics, active and passive travelers will find entertainment here..
The main types of recreation in Istanbul

Excursion: as part of excursion tours you will be shown the Blue Mosque, Galata Tower, Hagia Sophia, Topkapi Palace (you will be able to visit various halls and see collections of ceramics, porcelain, jewelry), Dolmabahce Palace, will be taken to the Spice Market, the Mosaic Museum, Museum spinning dervishes, as well as the Miniaturk miniature park. In addition, boat trips along the Bosphorus River are organized for everyone..
Active: if you wish, you can go yachting, play golf, go fishing, visit nightclubs, as well as jazz and narguile cafes.
Eventful: a trip to Istanbul is a great opportunity to visit the FashionFair fashion exhibition (February), the International Film Festival (April), the Tulip Festival (April), the International Theater Festival (May), the Jazz Festival (July), the International Yacht Show (October ).
Beachfront: with children, it is recommended to relax on the Sea of ​​Marmara on the beaches of Istanbul's Jaddebostan and Fenerbahce districts (pay attention to the paid TrueBlueBeachBar - there is everything you need for a comfortable stay), since the sea is shallow and there are gentle slopes into the water, and the water is a little warmer here. than in other areas. In the Sariyer area (Black Sea), you should take a closer look at the Uzunya Beach Club - it has its own camping, restaurant, billiard room. And by choosing the sandy Black Sea beach BurcBeachClub for relaxation, you can ride a catamaran or banana boat, play football or volleyball, attend annual concerts and competitions in various sports.
Family: parents should take their children to AquaMarine and AquaClubDolphin water parks, Bayramoglu zoo, Dolphinarium, JurassicLand amusement park, MagicAce Ice Museum.
Prices for tours to Istanbul
Vacationers in Istanbul can be found at any time of the year, but the most favorable time to visit this Turkish city is April-September. An increase in the cost of vouchers to Istanbul (by 30-50%) is observed in the summer months. As such, there is no low season in Istanbul, but there are fewer tourists in this city in winter, the exception is New Year's holidays, when prices for tours to Istanbul are noticeably higher.
On a note!
It should be noted that before taking a photo of local residents, you first need to obtain permission from them to shoot, and Muslim women should not be photographed at all..
Do not drink tap water in Istanbul (it contains a lot of chlorine) - give preference to bottled water.
To get around the city, it is better to use the services of buses, dolmus or taxis (at night, rates are doubled).
Excellent gifts from Istanbul can be gold jewelry, leather products, spices, antiques, Turkish carpet, oriental sweets, Turkish hookah.
Istanbul - the city of two continents

Photos of rest in Istanbul