What to do in Istanbul?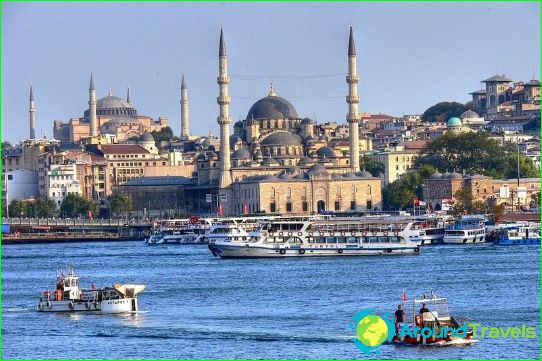 Istanbul is a Turkish city with an ancient history, famous for its architectural masterpieces and magnificent museums. In addition, Istanbul is located in two parts of the world at once (Europe and Asia).
What to do in Istanbul?

Visit the most beautiful mosque in the city - Sultanahmet;
Go to the Hagia Sophia and visit the Yedikule fortress;
Go on an excursion to Topkapi Palace;
Take a boat ride on the Bosphorus;
Visit the luxurious oriental palace - Dolmabahce;
See all of Istanbul and the Black Sea by climbing the highest hill - Büyük Чamlıca.
What to do in Istanbul?
Planning to visit the religious sites of Istanbul? Walking clothes such as shorts, short skirts and open T-shirts are absolutely not suitable for this purpose..
Arriving in Istanbul, it is impossible not to buy spices, antiques, carpets, ceramics and leather products. For shopaholics there are markets and shopping centers (in terms of shopping in Istanbul, you can buy everything!). You can buy everything at the best prices from mid to late April.
Beach lovers can spend time on the municipal beaches, which are located within and outside the city, as well as on the Princes' Islands in the Sea of ​​Marmara (by ferry you can get here in 1.5 hours).
Istanbul is a city of holidays and festivals. So, in February, you can visit the Fashion Fair, in April, visit the International Film and Tulip Festival, in July - at the Jazz Festival, and in October - at the International Yacht Show..
Couples with children should definitely go to the Tatilya amusement park: there are attractions, games rooms, restaurants, bars, and an amphitheater where musical performances are held. By visiting the "Miniaturk" park, your family will be able to visit a place that is both a park and an open-air museum: there are terraces for relaxation, thematic areas, cafes, bars, shops, a special garden for the youngest visitors..
You can see exotic birds and animals in the Istanbul Zoo, famous for its beautiful pools and fountains.
Coming to Istanbul and not visiting the hamam is a crime. So, you can visit the most famous Istanbul hammam - Jagaloglu: here you can not only take a steam bath, but also order a service consisting in the provision of several types of massage.
Arriving in Istanbul, you can relax in a hamam, on a boat trip along the Bosphorus, try real Turkish tea and coffee, see many unique sights and take a lot of pleasant impressions away from here..
Istanbul - the city of two continents

Photos of where to go in Istanbul