Where to eat in Istanbul?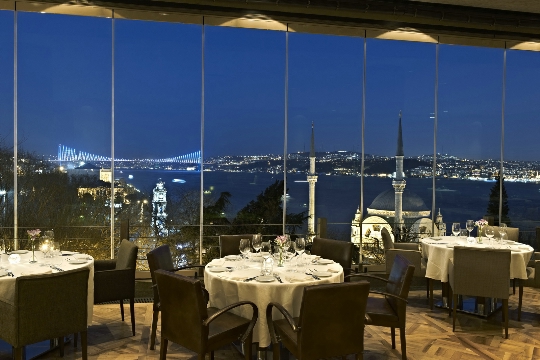 "Where to eat in Istanbul?" - an urgent question that will invariably arise for every vacationer in this Turkish city.
Where to eat inexpensively in Istanbul?
If your goal is to eat inexpensively, you can give preference to street food: simit - a bagel with sesame seeds can be bought for $ 0.5, fried chestnuts - for $ 2/100 g, stuffed mussels - for $ 1-1.5 / several pieces. You can have a cheap snack in Istanbul markets, where you can buy, for example, peynir cheese, kumpir cheese, a variety of sweets and nuts.
Another option for a cheap snack is a visit to Turkish traditional fast food establishments - lokants. For example, for a hearty 3-course meal at Balkan Lokantasi, you will pay about $ 5-7. For tasty and inexpensive food, you can go to the Siva cafe-restaurant - here they serve pizza, sandwiches, salads, traditional Turkish dishes (you will be pleased with the fast service).
Where to eat in Istanbul delicious?

Ciya: in the establishments of this restaurant chain, you can taste traditional dishes, the recipes of which have been collected from all over Turkey. Here you can taste dozens of different types of kebabs (onion kebab, lamb liver kebab), eggplant stuffed with rice and lamb, lamb stewed with beans, eggplant and tomatoes, pumpkin desserts.
Rejans: This restaurant specializes in international cuisine (both Turkish and Russian dishes can be found on the menu). So, here you can order Russian meatballs, pancakes with 3 types of caviar (Iranian, salmon, beluga), lemon vodka.
Sultanahmet: The walls of this restaurant are decorated with antique nautical instruments and ship models. Here you can taste delicious fish and seafood dishes, and in the evening you can admire the fire shows that are held right in the hall, near the tables.
Metropolis: This restaurant's menu features Turkish and Ottoman cuisine, with a special emphasis on seafood. In addition, you will be delighted with a rich selection of white, rosé and red wines and traditional Turkish desserts. If you rest here in the summer, you can dine in the garden by the light of the lanterns, and in the winter you will be invited to sit in one of the two halls with fireplaces.

Gastronomic tours in Istanbul
On a gastronomic tour of Istanbul, you will walk through colorful bazaars, where you can taste and purchase a variety of products. As part of this tour, you will be told about the local cuisine and main dishes, as well as advise which restaurants, cafes and gourmet shops to visit. In addition, you will be driven to some of the best spots to enjoy a chicken breast dessert and a wild orchid root drink. If you wish, you will be taken to the spice market, to the cheese shop, pastry shops (here you can taste Turkish delight and candied fruits).
Turkish food is delicious and you can taste it everywhere - on the streets, in parks, embankments ...
Photos