Prices in Side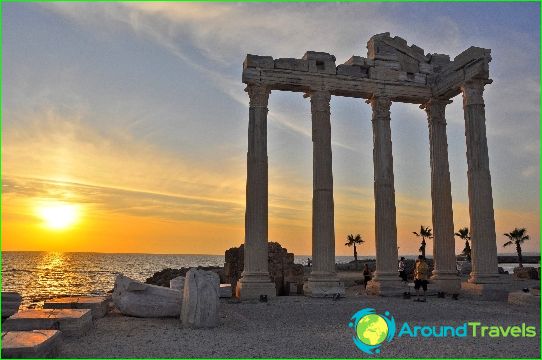 The popular resort region of Turkey - Side, is perfect for tourists who like a serene beach holiday. The resort is ideal for children due to its natural advantages - sandy beaches, shallow coastal area, clean air and an abundance of entertainment. Prices in Side are more affordable compared to other Turkish resorts.
Choosing a hotel in Side
A wide variety of hotels operate in this region: from large complexes and apartments to hostels. Most of the hotels are located in areas popular with tourists: Kumkei, Colakli, Titreyengol, Manavgat. Many complexes have a vast landscaped area, swimming pools, sports and children's playgrounds and entertainment centers. The cost of rooms depends on the proximity of the hotel to the sea, on the stardom and quality of services. Prices range from 1,500 to 10,000 rubles per day per room. Rest in Kumkoy - in the resort area near Side, costs from 12,600. Spending 3 nights together in a five-star hotel in Side costs at least 26,500 rubles. This price includes insurance, transfer and airfare.
Excursions in Side
There are a large number of attractions in this region of Turkey, so tourists do not get bored. Ephesus-Pamukkale is a popular excursion route. A tour of Pamukkale includes a visit to the salt lake and Cleopatra pool with swimming. To swim, you have to pay $ 20. The tour lasts 2 days and costs 30 euros (overnight at the hotel). The resort can book sightseeing tours of Side and Antalya. They are in greatest demand among tourists, as they are inexpensive - about $ 15-20. Such tours can be bus and walking.
Of the short routes, one can single out a visit to Cappadocia (50 euros for 3 days), a trip on a yacht (36 euros for 2 days). The cost of excursion tours depends on how far from Side the object of visit is located.
In addition to excursions, vacationers are offered rafting, quads, jeep safari, hammam, massage and other services at low prices. For example, the cost of a jeep safari is $ 45.
What can be bought in Side
In this resort, tourists are guaranteed a good shopping experience. The city's shops are concentrated on Liman Street. While walking around Side, you can make a lot of good shopping. Leather goods, bags, leather jackets and jeans are very popular here. Prices in Side for such goods are lower than in Russian boutiques. In the large shopping centers of the resort there are shops that have excellent reviews from customers: Ottimo, Moda Show, Side Leder, etc. When you go shopping, do not forget that it is customary to bargain in Turkey. Sellers reduce the price 2-3 times if the buyer skillfully negotiates.
Photos