Holidays in Side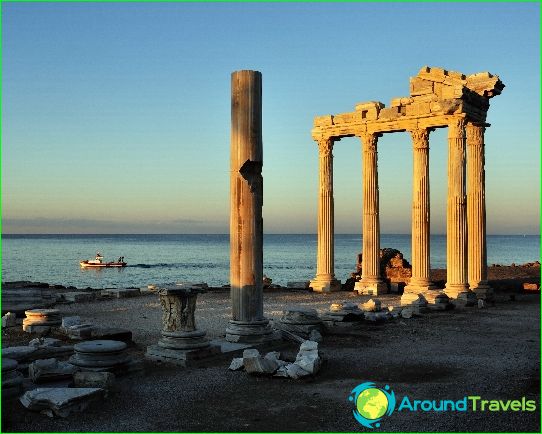 Holidays in Side are long sandy beaches, all kinds of entertainment, blooming gardens, numerous temples, colonnades and other structures left over from ancient times.
The main types of recreation in Side
Excursion: on excursions you can see the temples of Apollo and Athena, the Necropolis, the ancient theater, the agora and the Tuche temple, the aqueduct, the Aspendos bridge, the statue of the emperor Vespasian, the City walls, visit the museum located in the building of the Roman baths. For those who wish, excursions are organized around the outskirts of Side, involving a visit to the Kursunlu and Manavgat waterfalls, the ancient ruins of Perge, the Aspendos amphitheater.
Active: if you wish, you can go diving (you will have the opportunity to explore the American aircraft "Hadley's Harem" and the French military ship "San Didier" sunk during the Second World War), rafting (at the Alpine Rafting center, you will be able to organize river rafting, oriented as for beginners and professional athletes) or parasailing, go fishing or on a boat trip, have fun at the "Oxyde" disco.
Beach: vacationers should take a closer look at the Kumkoy beach - here they can attend beach parties lasting until the morning and spend time in local bars and restaurants (it is advisable to rush to the beach after lunch). And for a relaxing holiday, Kizilot beach is perfect..
Event-driven: tours are organized for those who wish, during which you can get to the Festival of Culture and Art (in September you will see concerts, performances of jazz bands, symphony orchestras and chamber ensembles) or to the International Opera and Ballet Festival (June-July).
Prices for tours in Side
The ideal time to visit Side is the end of May - end of September. In the high season, vacationers should prepare for the purchase of the most expensive tours: June-August is an active time at the resort, because students, elderly people, couples with children flock here..
Those wishing to save money should get tickets to Side in April-May, September-October. And even greater savings will be delighted by tourists who go to this Turkish resort in November-March (some travelers devote these months to sightseeing holidays and shopping).
On a note!
Since popular hotels are located in the central part of the city, in order to save money, it makes sense to book a room in one of the hotels located in the remote areas of Side.
It is best to move around the city on foot, but it is more convenient to get to the remote areas of Side by taking a taxi (call it by phone - this way you will pay less money for travel).
Unless your plans include paying huge fines, do not appear in public places or on the street while intoxicated..
Before leaving Side, do not forget to get mementos - carpets, hookahs, silk (scarves, capes), leather, porcelain and pottery (vases, jugs, plates) products, Turkish coffee and tea, oriental sweets.
Photos of holidays in Side