Holidays in Turkey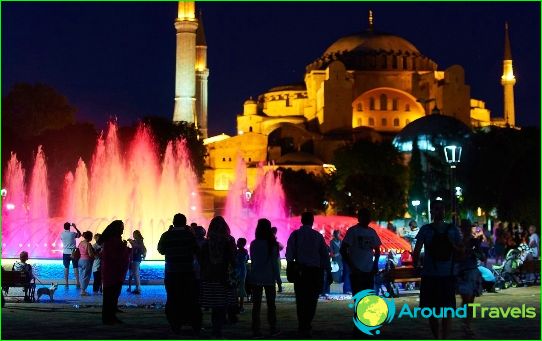 The contradictory nature of Turkish society is reflected in Turkish holidays - they are civil (intra-Turkish) and religious (international). Moreover, the former are tied to the chronology from the Nativity of Christ, and the latter to the Muslim lunar calendar of Hijri.
Holidays and festivals in Turkey

Eid al-Adha: an integral part of the holiday is the ritual of sacrificing sheep in memory of Abraham, who proved his faith in God by his willingness to sacrifice his own son. According to the prescriptions of the Quran, one third of the meat of an animal sacrificed must be cooked immediately, a third must be given to the poor, and a third must be divided between neighbors and relatives. As for the evening meal, it is necessary to arrange a solemn feast, feeding all those in need..
Mevlana Festival: December 10-17, this festival, which is a dance show, takes place in the city of Konya. At this time, many pilgrims rush here - the monks-dervishes dance to the music of flutes and drums, and at the end of the holiday, the participants in the show begin to rotate counterclockwise. Moreover, they do this to enter into a trance and become closer to God (dynamic meditation).
Navruz: on the day of the vernal equinox (Zoroastrian calendar), the Turks celebrate the New Year. It is customary to lay out cakes, wine, coins around oneself, programming oneself for prosperity and good luck for the whole next year (according to legend, everything that a person sees on this day will be with him all year).
Children's Day (April 23): since the Turks are very fond of children, on this day they decorate school grounds and main streets with balloons, flowers, Turkish flags, and parents present their children with sweets and gifts. Pupils on this day are elected as mayors, deputies, ministers, and some are even allowed to work in the personnel department. The festive program consists not only of concerts: competitions, olympiads, seminars, and briefings are organized for children. Children from other countries are allowed to participate - excursions to the houses of Turkish families are also organized for them.
Event tourism in Turkey
Arriving in Turkey as part of an event tour, you will be able to visit the International Film Festival, Music Festival, Jazz Festival, Shopping Festival with 50% discounts (Istanbul), camel fights in Selcuk, bullfights in Artvin, Archers Festival in Rize, Festival carpets, etc..
If you wish, you can come to Istanbul by planning your trip for the celebration of the Tulip Festival. You can see tulips everywhere - walking along alleys, parks, central streets and courtyards. It is worth noting that on the eve of the holiday, tulip bulbs are handed out to everyone free of charge, and local residents are happy to start planting them..
Since the festival lasts for a month, you will be able to attend concerts of famous musicians, flower exhibitions, fairs, see flower sculptures, as well as take part in various festive events taking place in Sultanahmet Square, Gulhane and Emirgan parks..
Holidays in Turkey are not only animation programs in hotels. There are also many holidays and festivals that take place in the country all year round..
Photos