Turkish cuisine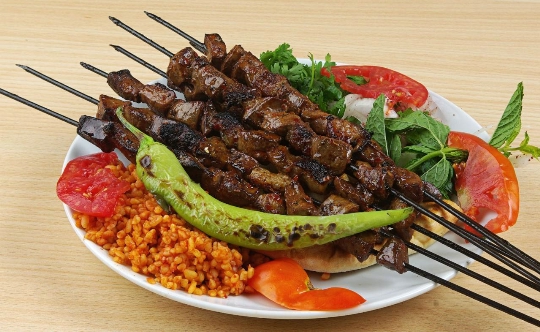 Turkish cuisine is a variety of dishes and tastes: it cannot be called spicy, since spices are added in rather moderate quantities (certain seasonings are selected for each dish).
National cuisine of Turkey
Turkish cuisine uses meat (poultry, lamb, veal), vegetables (spinach, eggplant, artichokes, peppers, tomatoes), cereals, legumes (beans, peas), herbs, seasonings.
It should be noted that a skewer is often used to prepare meat dishes. In this way, for example, kyufta and shish kebab are prepared..
In the north of Turkey, preference is given to fish dishes (kebab or pilaf from hamsa), in the western part of the country - to snacks such as "arnavut jigeri" (a dish made from fried liver), and on the seaside - dolma with mussels and fish on the grill. Desserts deserve special attention - usually fruits, cookies, nuts are added to them and soaked in honey.
Popular Turkish dishes:
"kebab" (a kind of shish kebab);
"patlitzhan kizarmazy" (eggplant caviar);
"hunter-begendi" (lamb with eggplant in milk sauce);
"zeytinyali" (a dish of stewed tomatoes, green beans and onions);
"tavuk-shehriye-chorbasy" (soup with chicken and noodles);
"mussel-tava" (fried mussels).
Where to taste the national cuisine?
In Ankara, you can try Turkish cuisine in "Tevfic Kis Pide and Kebap" (the specialty of the institution is Turkish shashlik with eggplant) or "Kalbur" (the institution specializes in fish and seafood dishes), in Istanbul - in "Aloran" ( Among the popular dishes of this restaurant, it is worth trying lentil soup, kebabs, grilled fish, "testi" - meat baked in a clay pot) or "Duvares" (an institution will delight lovers of kebabs and all kinds of seafood delicacies), in Marmaris - in "Hasis Caf" (be sure to order chicken parmo and a variety of pies), in Alanya - in the "Ottoman House" (the institution is famous for the fact that here guests are delighted with old Turkish cuisine).
Cooking courses in Turkey
If you wish, you can go to the Istanbul Culinary Workshop, where master classes in Ottoman and Turkish cuisine are held (classes are designed for 3 or 6 hours, and begin with a visit to the Spice Market). At the Istanbul Culinary School (Beyoglu), those wishing to learn how to cook both old Ottoman dishes and homemade dishes.
Connoisseurs of local cuisine should also take a closer look at the culinary courses of Delicious Istanbul: together with the chef, they will visit the grocery market and purchase the necessary products, after which they will start preparing the main course, several appetizers and dessert (classic Ottoman and Turkish recipes will be used).
If you are interested in gastronomic festivals, come to Turkey during the Strawberry Festival (Bartin, June) or the Arcelik Gastro Istanbul Food and Drink Festival (Istanbul, May).
Photos